Eicher Motors, TVS Motor, Maruti Suzuki in top ten list; Tata Motors is an exception.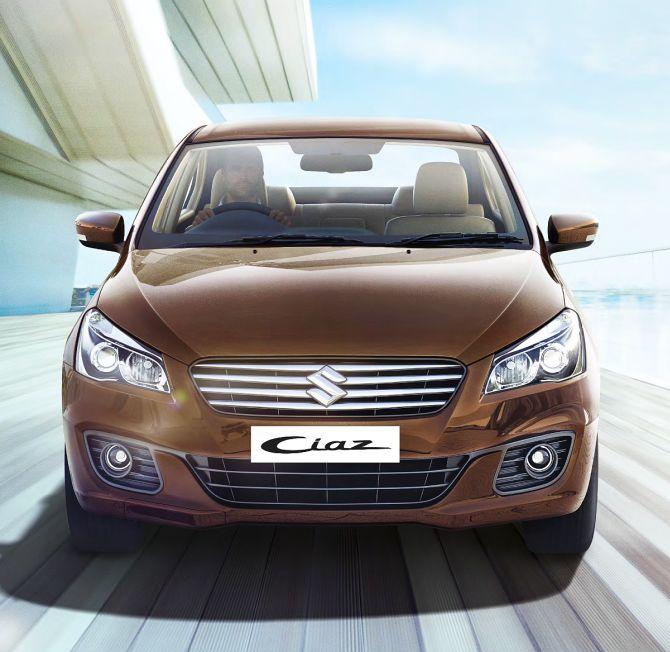 Indian automobile makers are among the most expensive in the world, measured by stock exchange valuation.
Truck and two-wheeler maker Eicher Motors is the third most expensive auto maker in the world on price to earnings multiple (P/E).
And, tops the chart on the market capitalisation to revenue ratio.
At its current share price, it trades at 93.5 times its earnings per share and 6.4x consolidated revenue in the trailing 12 months.
There are three Indian companies among the ten most expensive auto companies globally, on the P/E multiple.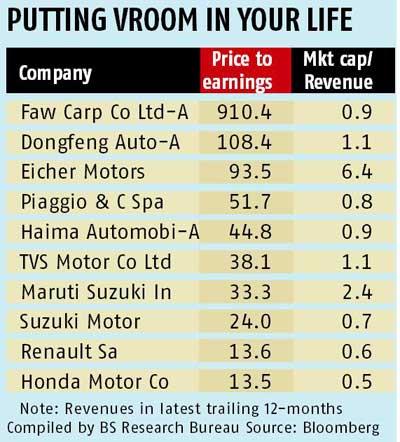 With a multiple of 38.1x, TVS Motor is the second most expensive two-wheeler maker, behind Italy's Piaggio, while Maruti Suzuki is one of the most expensive car makers of comparable size (see table).
In all, India seven listed auto makers are together valued at $ 83 billion and account for seven per cent of the combined market cap of all companies in our sample, nearly twice their 3.5 per cent share in global automotive revenues.
Indian companies together reported revenue of $ 72.5 billion in FY15.
The analysis excludes electric vehicle makers such as BYD Company from China and Tesla Motors from United States.
Tesla is currently the priciest automaker globally, trading at 9.6 times its trailing 12-month revenues.
It reported net losses in 2014-15 and the P/E ratio is not available for the company.
The analysis is based on the 60 listed auto makers with latest annual revenue of $ 1 billion or more.
With a market cap of nearly $ 20 bn, Maruti Suzuki is now more valuable than parent Suzuki Motor Corporation and trades at a premium.
India's top car maker is now trading at 33.3x its trailing 12-month net profit, against its parent's P/E ratio of 24x.
Maruti valuation ratios beat European, American, Japanese and Korean auto makers by a long margin.
Toyota Motors, the world's top auto maker (by sales volume) is currently trading at 12x its trailing earnings.
Europe's top car maker, Volkswagen, is trading at 8.7x its trailing earnings.
General Motors and Hyundai Motor are even cheaper at 7.3x and 4.8x, respectively, according to Bloomberg data.
Tata Motors is the only exception. India's top auto maker is now one the cheapest stocks in its global peer group.
It trades at only 9.1x its consolidated earnings in the trailing 12 months.
This is largely due to a recent fall in its stock price owing to market concerns about a slowdown in Jaguar Land Rover's cash-rich operations in China.
The stock is down nearly 35 per cent from its year's high.
Experts attribute the high valuation of Indian auto makers to the faster growth in India compared to the rest of the world.
"Vehicle sales in India is expected to grow faster than most of the developed market and emerging markets. Beside, rising income would result in hordes of Indians upgrading to bigger and more expensive models from smaller vehicles. All this will translate in faster revenue and profit growth for Indian automakers," says Devang Mehta, head of equity sales at Anand Rathi Financial Services.
There is some truth in this. Eicher Motors, TVS Motors and Maruti Suzuki are among the fastest growing automakers globally with high double digit growth in earnings.
However many of their cheaper (on P/E basis) peers in China, Japan and Europe also reported faster growth last year.
There could also be an element of exuberance in the valuation of few of the Indian automakers given the fact Indian stock market remains one of the most expensive in the world.
Both the benchmark indices BSE Sensex and NSE Nifty are among the most expensive indices on P/E basis among their emerging market peers.