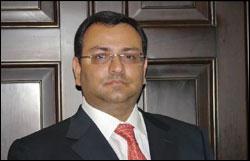 Tata Sons deputy chairman Cyrus Mistry has been appointed as the chairman designate of Indian Hotels Company.
He will take over as the chairman of the hotel chain from Ratan Tata on his retirement next month, Indian Hotels Company Ltd (IHCL) said in a filing to the Bombay Stock Exchange on Tuesday.
This decision was taken at a meeting of the board of the company held in Mumbai.
"...Mistry was appointed as an Additional Director designated as the Non-Executive Chairman of the company," the filing said.
On Tata's retirement in December, 2012, Mistry will take the charge of IHCL, whose "unsolicited" $1.86 billion buyout offer for luxury hotels chain Orient Express was recently rejected by the New York Stock Exchange-listed firm.
This was the second takeover attempt by Indian Hotels, which holds about 7 per cent in Orient Express.
Mistry has been a director of Tata Sons since 2006 and was appointed Deputy Chairman last November.
Earlier this month, he was appointed as the deputy chairman of Tata Steel and Tata Chemicals.
Tata Motors and Tata Consultancy Services had also inducted Mistry as deputy chairman.
Shares of IHCL closed at Rs 59.90 a piece on the BSE on Tuesday, down 2.28 per cent from its previous close.
IHCL and its subsidiaries are collectively known as Taj Hotels Resorts and Palaces.