From trucks lined up and waiting in the area to local vendors, the scenes tell a story of livelihoods stalled.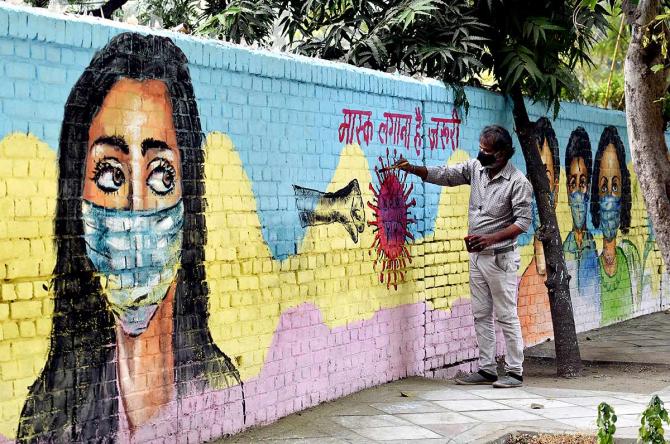 The strict curfew in Delhi and shortage of industrial oxygen have begun to take a toll on the thousands of facilities in the Noida-Greater Noida industrial belt.
Besides rising cases of Covid-19 among workers and fear of another lockdown prompting many to return to their hometowns, lack of industrial oxygen is putting a strain on manufacturing activities.
Take LG Electronics, for instance.
As oxygen supply ran low, work at the Korean appliances' major, which has its India headquarters inside a sprawling facility in Greater Noida, was affected on Wednesday, says the staff present at the site.
According to the staff, supply of industrial oxygen had been diverted to hospitals from early this week, aff­ecting operations at the behemoth.
Authorities at LG Electronics, meanwhile, said that the plant was operational.
Next door to LG's facility is the largest supplier of industrial oxygen in the region — an Inox Air Products plant.
Here, according to its staff, production of oxygen has gone up significantly since last week after the central government stepped in.
Currently, it is primarily catering to the healthcare industry.
The impact on operations at various units, some of which have temporarily suspended work, has left many in limbo.
From trucks lined up and waiting in the area to local vendors, the scenes tell a story of livelihoods stalled.
Yudhisthir Singh had arrived with his empty container truck from Dharuhera (Haryana), some 110 km away, early in the morning to transport white goods from a plant to Tamil Nadu.
The abrupt suspension order has left him with no choice but to wait indefinitely as loading activities are on halt.
Bittu Yadav, who runs a small grocery store by the roadside, says daily business has plunged by as much as 70 per cent with hund­reds of workers not tur­n­ing up.
His only hope now are cust­omers from the nearby Maruti Su­z­u­ki dealership and the Inox Air plant.
The impact is being felt at the thousands of other units, too.
Acc­ording to V K Seth, secretary general, Noida Entrepreneurs Association (NEA), reverse migration has begun to hurt many manufacturers in the region.
"The curfew in Delhi has made many contractual and daily factory workers jittery and they have already begun to migrate back home.
"This is impacting operations at smaller units," he says.
While till March recovery was steady, the sudden change in the business environment has left many, like Seth, clueless about the future.
While the Uttar Pradesh government has tried to assure the in­dustry by refusing to impose a lockd­o­wn on weekdays, the weekend lockdown — beginning this Saturday — has created anxiety among workers.
Further, rising cost of raw materials and lower cash flow is straining the finances of small and medium suppliers of larger units.
"Comm­odity prices have gone up by 100 to 200 per cent but larger firms are not ready to pay us more. Managing cash flow is now impossible," says a plant manager at ancillary-maker Krishna Die Casting.
"So like us, many are cutting down on production and the number of workers."
Rough estimates by local industry owners indicate that at least 15 per cent of the 600,000-odd migrant workers employed in the region have already gone back to their towns and villages.
As a majority of them come from Uttar Pradesh, followed by Bihar, last year's distress prompted them to take the step early this time.
This, and the economic impact of last year's lockdown, have forced at least 1,200 units to shut down in the area.
NEA's records suggest there are some 11,000 registered units in the Noida-Greater Noida industrial belt out of which some 3,000 are involved in the manufacturing of electronics items.
With troubles all around and no respite from the surging Covid wave, the fate of the industrial belt would li­kely become clear only by next week, says Seth.
"If migrant workers continue to leave and economic activity does not pick up, the situat­ion may become even more grim."
Photograph: ANI Photo