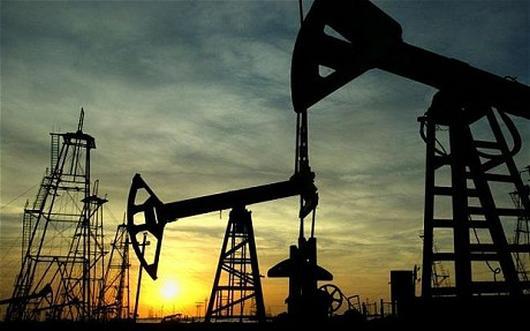 Global crude oil prices tanked to a six-and-a-half-year low on Monday after Chinese stock markets suffered their biggest single-day drop since the global financial crisis, fuelling worries over global oil demand outlook amid Iran's fresh commitment to boost production and higher drilling activity in the US.
Brent crude for October settlement declined by more than four per cent to $43.62 a barrel on the London-based ICE futures exchange, the level last seen before March 2009.

Brent, the benchmark for half the world's oil, was trading at a premium of over $5 over the US benchmark West Texas Intermediate (WTI) which was trading down four per cent at $38.84 per barrel.
Iran will expand output "at any cost" to defend market share, that nation's oil minister Bijan Namdar Zanganeh said on Sunday, according to his ministry's news website. The number of active US oil rigs increased for the seventh time in eight weeks, Baker Hughes rig count data showed.
The Indian basket of crude oil prices, which represents the average price of Oman and Dubai sour-grade and sweet Brent crude oil processed in Indian refineries (in the ratio of 72:28), stood at $45.21 a barrel on August 21, the lowest in the past seven months since January 26 this year.
"The combined impact of the crude price slump and the depreciation in the rupee over the past few days would result in a Rs 1,00,500-crore (Rs 1 trillion) impact on India's import bill along with a Rs 9,000-crore (Rs 90 billion) impact on the government's petroleum subsidy," K Ravichandran, senior vice-president at research and ratings agency ICRA, told Business Standard.
At current levels of consumption and prices, every $1 decline in crude rates eases India's import bill by Rs 6,700 crore and pulls down the government's subsidy bill by Rs 600 crore (Rs 6 billion).

The crude oil prices of the Indian basket has averaged at $55.50 a barrel in the current financial year so far, ranging between a high of $66.54 a barrel on May 6 and the August 21 price of $45.21 a barrel.

This is $15 a barrel less than the government's budgeted crude oil price of $70 a barrel for the current financial year.
The decline in crude oil prices is positive for Indian refiners — Indian Oil Corp (IOC), Bharat Petroleum Corp Ltd (BPCL) and Hindustan Petroleum Corp Ltd (HPCL) — as their working-capital requirements would come down. Product prices and gross under-recoveries would also come down.
IOC Chairman B Ashok had last week told Business Standard the current subdued crude price is likely to continue for the next couple of years, owing to higher US shale production, the Organization of Petroleum Exporting Countries' (Opec's) insistence on not cutting production, and possibility of more oil from Iran.

For refiners, however, the gains could be limited by inventory losses. IOC had to suffer Rs 15,000 crore (Rs 150 billion) of inventory losses last financial year.
Lower under-recoveries for refiners would also mean reduced subsidy-sharing for upstream companies like Oil and Natural Gas Corp (ONGC). Oil marketing companies' under-recoveries came down from Rs 1,39,869 crore (Rs 1.39 trillion) in 2013-14 to Rs 72,314 crore (Rs 723.14 billion) last financial year, due to deregulation of the diesel price and rollout of the direct benefits transfer scheme for LPG.