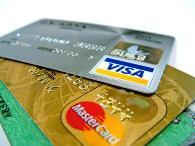 Credit cards appear to have found favour with public sector banks, which had, so far, been reluctant in expanding their unsecured loan portfolios aggressively.
According to data available with RBI, by April-end, government-owned banks improved their market share in the credit card business to 17.4 per cent, against 16.2 per cent in the year-ago period.

While the card base of public sector lenders like State Bank of India and Punjab National Bank grew significantly, private and foreign lenders saw sharp drops in their card portfolios. This aided government banks in gaining market share.
ICICI Bank, known for spearheading the secured and unsecured retail finance businesses, continues to shrink its credit card base.

The country's largest private sector lender had decided not to expand this business, with the delinquency rate surging after the 2008-09 financial crisis.

ICICI Bank narrowed its credit card portfolio from 3.36 million to 2.83 million. HSBC's portfolio shrank nearly a third to 613,877 cards.
Card base of public sector banks expanded 7.4 per cent year-on-year to 3.09 million at the end of April, while credit cards with private and foreign banks together declined 1.5 per cent year-on-year to 14.7 million.
At the end of April, SBI had a card base of 2.25 million, or eight per cent more compared to a year earlier. The bank offers credit cards through SBI Cards, its venture with GE Capital.

SBI Cards is currently the fourth-largest credit card issuer in the country and the largest among public sector banks.

In a recent interview with Business Standard, Kadambi Narahari, chief executive of SBI Cards, had said the bank aims to source one million cards annually in two years.
PNB expanded its credit card base the fastest among large banks. Cards with the bank rose 27 per cent to 1,03,712 at the end of April.
Some private sector banks, however, have defied trends. For instance, HDFC Bank, which accounts for the largest credit card base (5.65 million), added 5,50,000 cards, expanding its base by about 11 per cent. In the past year, the bank announced a slew of initiatives, including the no-limit card 'Infinia' card, to augment its card base.
Some foreign and private lenders took the inorganic route to enter into, or expand, credit cards businesses. IndusInd Bank acquired Deutsche Bank's card portfolio to enter the market, while Standard Chartered Bank bought Barclays' card business in India to expand its portfolio.
However, with major players like ICICI Bank and HSBC refraining from growing their card business, the aggregate market share of private and foreign lenders in this segment failed to rise.
As of April-end, the number of outstanding credit cards in India stood at 17.77 million.