Former president APJ Abdul Kalam has called for new ways to harness rural entrepreneurship and for reorienting the education system to address the twin issues of skills gap and employment.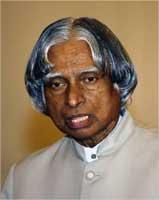 "Create job creators rather than job seekers," he said presenting cases of innovative applications originating in rural areas of Assam and Kerala.

"Grassroots innovators come up with creative solutions out of experience or necessity. These need to be integrated with appropriate technology to make them marketable and competitive," he said.

Kalam was speaking at the inaugural of an international conference on skill development in the context of a technology-driven society.

The two-day conference is organised jointly by the Rural Educational and Economic Development Society (Reeds) and the Ministry of Labour and Employment.

He suggested that participants in the conference should think of ways to make the National Rural Employment Guarantee Scheme a knowledge-based creative employment programme.

While calling for interventions to improve, among other things, the industrial training institutes, Kalam also underscored the need to understand the perspective of the targeted beneficiaries.

Former chief minister of Andhra Pradesh K Rosaiah said the state was leading in terms of skill development, producing 700,000 skilled persons a year.

But despite the large pool, there was a mismatch between qualitative demand and supply, he said, adding this could be addressed with the addition of soft skills to the technical skills.

Kay Ganley, chairperson of Australian Council of Private Education and Training, said the higher education industry association would look for opportunities to collaborate with Indian partners in education and training.

The conference will have sessions on rural livelihood skills chaired by former IIT Madras director PV Indiresan, on accreditation of skills to be chaired by JNTU vice chancellor DN Reddy and on rural development policies to be chaired by Shantha Sinha, chairperson of National Commission for Protection of Child Rights.

Australian firm eyes training for retail sector

Brisbane-based First Impression Resources (FIR), which trains personnel for the retail sector, plans to open a training centre in Hyderabad or Bangalore by February 2011.

FIR general manager Mike Wallace told Business Standard that the company was looking for Indian partners and was in talks with Reliance Retail, Spar Max Hypermarket and Yum Restaurants, which runs the Pizza Hut chain.

"We have spoken with a number of large retailers in India. Our focus is mainly on companies here in Hyderabad and Bangalore," he said.

FIR plans to run a pilot programme in February. "It will start with 1,000 students and we are expecting at least 800 of them to get into jobs straightaway,' Wallace said.

It would also provide life skills training to all its trainees and for those migrating to Australia. "We are also exploring if we can get financial assistance from the National Skill Development Corporation," he said.

It sees a big market in India, with Wallace expecting to train 100,000 people in three years.

Another delegation from Australia would visit India in February to explore opportunities in the training sphere in sectors like construction, transport management, and healthcare, Wallace said.