Many companies globally are working on plasma research to develop and manufacture hyperimmune globulin therapies from plasma donations.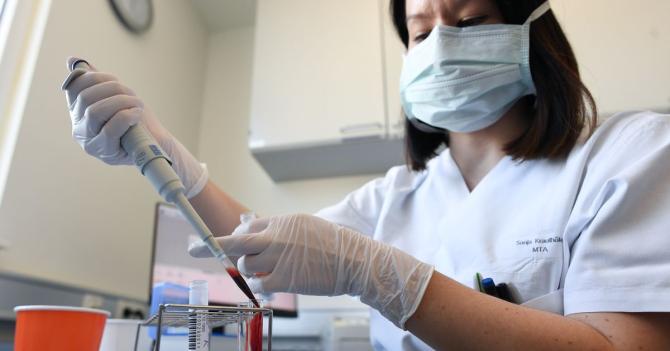 Domestic drug firms are working on re-purposed drugs that might be used to treat Covid-19.
Recently, the subject expert committee (SEC) on Covid-19 reviewed some proposals and approved a few.
Ahmedabad-based Intas Pharmaceuticals got the nod to conduct phase-II trials for hyperimmune globulin, while Bengaluru-based firm IDRS Labs was asked to submit more data to support its proposal.
Meanwhile, Jubilant Life Sciences got approval to conduct phase-IV clinical trials for remdesivir.
Many companies globally are working on plasma research to develop and manufacture hyperimmune globulin (H-Ig) therapies from plasma donations.
In fact, there is also a global alliance for this - CoVIg-19 Plasma Alliance.
In convalescent plasma therapy the plasma is simply donated from recovered patients after it is screened for viruses and relevant antibodies against the SARS-CoV-2.
In H-Ig therapy, the plasma is pooled, concentrated and then purified.
This results in a vial of medicine that has consistent level of antibodies in each unit.
It is also easy to store, distribute and administer to patients, and doesn't require blood group type matching.
The advantage over conventional plasma therapy is that it will have standard antibodies in each dose instead of a wide variation in donor plasma.
The SEC granted Intas approval on the condition that no subject should be given convalescent plasma therapy during the trial and that the subjects will be followed actively up to 28 days.
IDRS Labs presented its proposal to conduct phase-III clinical trials on asymptomatic or mildly symptomatic Covid-19 patients with a drug called sodium copper chlorophyllin (750 mg once daily).
Chlorophyllin is a semi-synthetic mixture of water-soluble sodium copper salts derived from chlorophyll.
It is estimated to improve lung health.
The SEC asked the firm to submit safety data to support the use of chlorophyllin on patients for 10 days and also provide a justification to hospitalise mild patients for 10 days for the study.
The firm has also been asked to submit phase-II clinical trial protocol to the SEC for review.
Jubilant, meanwhile, got the nod to conduct phase-IV trials of remdesivir on at least 100 patients.
This would be an active post-market surveillance clinical trial as remdesivir brands are already being used.
Jubilant has been asked to submit data within six months and include some government trial sites in its study.
Photograph: Andreas Gebert/Reuters