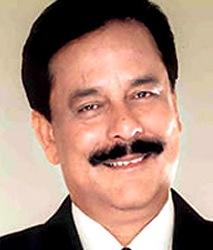 A Delhi court on Monday issued bailable warrant against Subrato Roy, chairman of Sahara India Group, in a case of alleged cheating and forgery in a housing project launched by his company.

Chief metropolitan magistrate Vinod Yadav directed the Delhi Police to execute the warrant against Roy and four other company officials by February 9.

The warrant was issued on a complaint filed by Neeraj Pandey, who alleged that the company has not started the housing project despite getting a payment of Rs 100,000 in 2003.

He has alleged that the company had launched the scheme Sahara Swarn Yojna for developing 217 townships all over the country, including the NCR region.

In the complaint filed on April 12, 2009 it was alleged that despite the promise made in 2003, no progress was made for its project in the NCR region and the company after six years offered to return Rs 158,000.

The complaint was lodged for the registering an FIR for cheating and forgery against Roy and others after police refused to lodge it.

"It is apparent that till date no allotment has been made to the complainant. It is also apparent that even the site of the township has not been disclosed to him giving rise to the presumption that despite collecting money from the proposed allottee the township has not been established," the court said.

Pandey, who filed the complaint through advocate Ashutosh Bhardwaj, alleged that the company has collected Rs 100,000 each from 25,000 people from NCR region but the project has not taken off till date.

The court after hearing the contention said there was enough prima facie evidence to take action against Roy and other company officials.

"It is also apparent that all promises were held out to the general public through brochures/booklets which prima facie amounts to forging the documents.

In my opinion there is prima facie enough material on record to proceed against them for offences punishable under Sections 420 (cheating), 468 (forgery), 506 (criminal intimidation) and 120B (conspiracy) of the IPC," the CMM said.

"There are further allegations that when the complainant approached this court and invoked criminal proceedings against the Roy and others they used all possible measures to thwart this litigations, firstly by intimidating him and secondly by sending him the cheques of amount without he having asked for the same and thereafter invoking the arbitration clause, knowing fully well that the same was for civil litigation and not for criminal litigations," he said.
Image: Subrato Roy