Soybean is trading at a 25 per cent premium to the MSP, after initially slipping below the government's threshold procurement price of Rs 2,850 a quintal.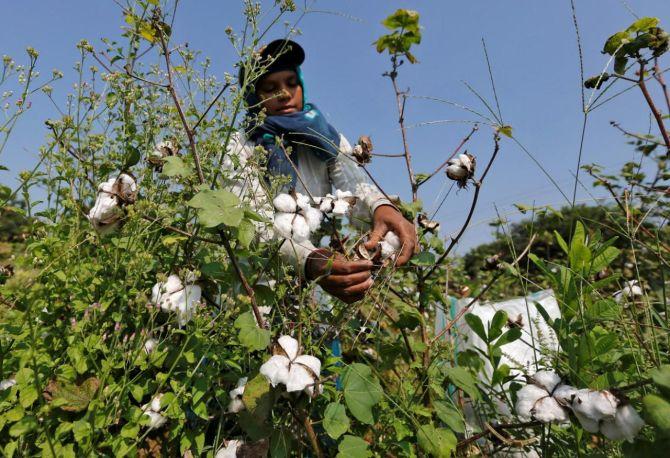 Many cotton farmers are reportedly looking to shift to soybean during the coming kharif sowing season, as the oilseed fetched a better return last year.
During most of the 2017-18 cotton season (July 1 to June 30), prices have, barring a couple of short-term ripples, remained lower than the minimum support price (MSP) fixed by the government.
It was only towards the end of the supply season, that prices moved above the MSP of Rs 4,020 a quintal for medium staple and Rs 4,320 a qtl for long staple in the Gujarat spot market, thanks to aggressive procurement by government-owned Cotton Corporation of India.
In contrast, soybean is trading at a 25 per cent premium to the MSP, after initially slipping below the government's threshold procurement price of Rs 2,850 a qtl.
The government recently raised the import duty on edible oils to enable a price increase in oilseeds and edible oils.
"We expect at least 15 per cent of cotton farmers shifting towards soybean this kharif season, for better realisation," said Atul Chaturvedi, chief executive at Adani Wilmar, producers of the 'Fortune' brand of edible oil.
Cotton farmers had a bad experience last year, especially in Maharashtra, due to an attack by the pink bollworm on the standing crop.
Around a third of the 4.2 million ha under cotton in Maharashtra was hit by this.
Even so, India's total supply is estimated to be nearly 400,000 bales (a bale is 170 kg) higher at 44.18 million bales for 2017-18, than the estimated demand of 40.1 mn bales, according to the first Cotton Advisory Board meeting.
"Cotton farmers are looking to shift to more remunerative crops not only in Maharashtra but also in Telangana and Andhra Pradesh. Soybean is set to gain at least 12-15 per cent in acreage, primarily from cotton, this kharif season," said Atul Ganatra, spokesperson, Shree Radhalakshmi Cotton, a trading and exporting entity.
Currently Rs 4,700-5,500 a qtl, cotton prices moved up during the past month when export demand emerged suddenly from Bangladesh, China and Pakistan. However, farmers in general had already sold their entire stock and did not benefit.
Earlier, prompted by falling prices, CCI bought a record amount of 1.2 mn bales this year, compared to only 150,000 bales last year.
Soybean is now at Rs 3,738 a qtl at the benchmark Gujarat mandi, about 23 per cent higher than its MSP of Rs 3,050 a quintal (including Rs 200 as bonus).
In March, the central government raised the import duty on crude palm oil (CPO) and refined oil (refined, bleached and deodorised or RBD palmolein) to 44 per cent and 54 per cent, from the earlier 30 per cent and 40 per cent, respectively.
With this third such increase in the past seven months, the basic import duty has increased by almost sixfold on CPO and fourfold on RBD palmolein.
Before the first such increase in August 2017, the basic import duty on CPO and RBD palmolein stood at 7.5 per cent and 15 per cent, respectively.
Over and above, a 10 per cent social welfare cess is also levied on the basic import tax.
The effective import duty on edible oil, however, is much lower than the one demanded by the industry of 70 per cent on CPO and 55 per cent on RBD palmolein, with 15 per cent of differential duty.
Photograph: Amit Dave/Reuters.