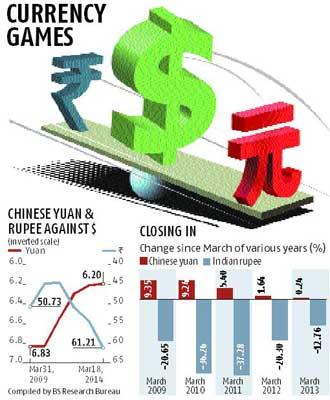 Since it hit a low of 68.83 against the dollar in August, the rupee has appreciated about 11 per cent to 61.21 a dollar, hitting a large number of exporters hard.

However, the recent appreciation has not deterred companies such as electric goods maker Havells from ramping up their base in India.

About a year and a half ago, the company set up a manufacturing plant for 16-inch table, pedestal and wall fans in India.

The plant, in Uttarakhand, was set up because Chinese manufacturers had increased prices, citing rising labour costs.

Besides, the yuan (the Chinese currency) and the rupee have been moving in opposite directions against the dollar, giving an obvious advantage to Indian exporters.

While the yuan has appreciated 9.35 per cent since March 31, 2009, to 6.2/dollar, the rupee has depreciated 20.6 per cent to 61.21/dollar during this period.

"The advantage certainly gets marginalised when the rupee is stronger…If it comes close to 55-56 against the dollar, the advantage will be neutralised," said Sunil Sikka, president, Havells India.

In 2007, Havells acquired Frankfurt-headquartered Sylvania for $300 million to cater to developed markets in Europe.

After the financial crisis of 2008, the company shut two of its five manufacturing plants in Europe and set up a joint-venture manufacturing plant in China to supply light-emitting diode products to Sylvania.

About a year ago, the company set up a manufacturing plant for lighting fixtures in Neemrana (Rajasthan) to supply to Sylvania. Earlier, the company sourced lighting fixtures from Costa Rica and France.

Now, India is the new sourcing hub for the company's European operations.

The garments sector, too, isn't perturbed by the recent appreciation in the rupee.

The sector has been gearing up to avail of the advantages of cheap labour and a favourable currency compared to China.

Raymond, best known for selling branded textile for men's
suits, plans to increase exports fourfold in the next five years, as the domestic market faces a relative slowdown.
According to the company's estimates, India exports $40 billion (about Rs 2 lakh crore) of textiles a year.
In 2012-13, Raymond's export revenue was about Rs 250 crore. The company plans to invest about Rs 1,000 crore (Rs 10 billion) through the next five years, primarily to augment capacities.
"Some amount of the appreciation was already factored in," says M Shivkumar, chief financial officer, Raymond.
"We also expect softening of interest rates as inflation comes down; that will cover the loss due to the rupee's appreciation," he said.
However, these success stories could be limited. In February, India's merchandise exports fell 3.67 per cent to $25.68 billion, against $26.68 billion in the year-ago period.
This dashed hopes the $325-billion export target for this financial year would be met, as the outlook for export growth was weak, given the rupee's recent gains against the dollar.
"Indian exporters have a cost disadvantage of 14-15 per cent against their Chinese counterparts," says Sanay Budhia, chairman, national committee on import and exports, Confederation of Indian Industries.
About a year ago, the government withdrew the duty entitlement pass book scheme.
DEPB was expected to neutralise the impact of import duty on inputs.
"India cannot remain complacent, as importers are also looking at countries such as Vietnam and The Philippines to beat rising costs in China," Budhia said.
Still, China has an advantage in that it manufactures low-engineering, high-volume products due to economies of scale.
But India has an obvious advantage in exporting smaller-volume products that require engineering inputs.
Traditionally, India's forging and automobile component sector has come under this segment and benefited from the export market.