Conrad Hilton, the world's best-known innkeeper, wrote in his book Be My Guest, "I was 23. I had been working for 11 years.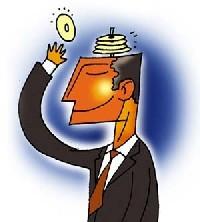 So far, I had earned a partnership in a store in the town in which I was born. But it was my father's store. A H Hilton & Son. A H Hilton & Shadow? A small voice within me was questioning. Wasn't it time I formulated a dream of my own?"

Hilton's inspiring personal memoir seems to have inspired sons of India's top corporate honchos. Only they are not following in their fathers' footsteps to make their presence felt.

In fact, when Amit Patni, son of Gajendra, one of the founder brothers of Patni Computer Systems, decided to set up an early-stage fund, Nirvana Venture Capital, he joined a growing list of next-generation entrepreneurs making concerted efforts to carve out a niche in the private equity/venture capital space.

Others are HDFC chairman Deepak Parekh's son, Aditya; Sasha Mirchandani, son of Gulu Mirchandani, chairman and managing director of Mirc Electronics Ltd that makes the Onida brand of electronics products; and former finance minister Yashwant Sinha's son, Jayant.

Amit says he has spent 22-odd years with the family business and has a fair amount of exposure to international operations.

"I, therefore, want to use my experience in venture investing and mentoring young and smart entrepreneurs to develop new business ideas and start-ups," he says.

Nirvana's current fund is focused on digital and internet technologies, where the Patni family has vast experiences.

"Therefore, we have had a fair amount of interest from international and domestic LPs (limited partners or investors)," Amit claims.

Aditya has joined hands with Sameer Shroff to launch Faering Capital. Through Faering, named after a boat used by the Vikings, the duo raised Rs 830 crore (Rs 8.3 billion).

The star-studded advisory board of Faering Capital consists of Deepak Parekh, Shardul Shroff of Amarchand & Mangaldas & Suresh A Shroff &
Co and Godrej Group patriarch Adi Godrej.
Sunit Mehra, managing partner, Hunt Partners, a global executive search firm, says, "Super high networth individuals typically use the concept of 'family offices' to drive greater returns from their investments. Structuring this further to active management is the next step and can work very well, especially if a family member, who has the right qualifications choses to run the business."
Sasha Mirchandani was the head of corporate affairs and new business at Mirc Electronics before joining BlueRun Ventures as its India head. But he left the US-based venture capital firm to set up early-stage fund Kae Capital to invest in start-ups.
"I decided to set up my own investment arm when I realised the significance of seed stage funding in India. In the US, the seed funding is a $20-billion business, while in India, it is in a nascent stage," he says.
He is also a co-founder of Mumbai Angels, India's first angel investment group. Sasha, who is raising a $25-million fund, believes his experience at Mumbai Angels will help him in the fundraising process.
According to him, the previous experience of a candidate does matter more than his family background.
Jayant Sinha joined Omidyar Network India Advisors as its managing director and country head in 2009, after a 13-year stint at McKinsey as a partner. Omidyar Network is a global philanthropic fund, promoted by eBay founder Piere Omidyar.
"I expect with more and more young Indians coming back from the US and Europe to participate in the India growth story, there is a large amount of Angel and VC capital required. Therefore, the opportunity is there for business families to look into this," says Amit.