More mid-senior level exits seen with change of leadership at IT companies.
Ayushman Baruah reports.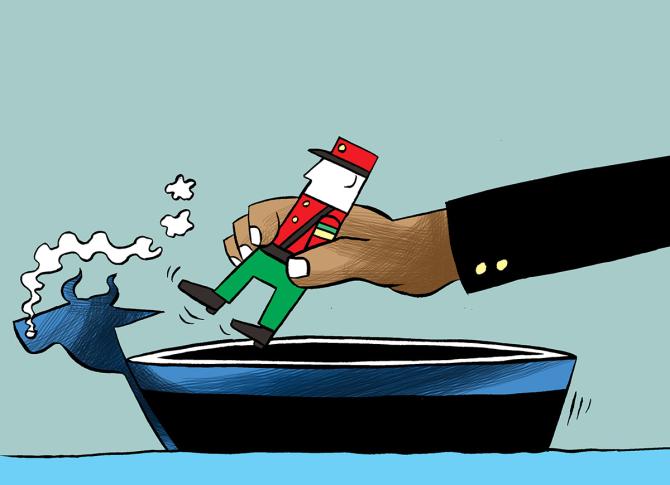 Indian IT services companies have seen several CEO changes that have, over the past few months, led to some crucial exits at the mid-senior level in a trend that is likely to continue.
According to a recent Motilal Oswal report, "Movement of mid-to-senior leadership at IT services firms is a reality, partially on account of multiple CEO-level changes.
"Moreover, there is demand for senior talent from both IT services and captives, especially in delivery roles."
"The CEO plays a critical role in the cohesion of an organisation, serving as a 'unifying force' that imparts stability, guidance, and a sense of purpose," said Daya Prakash, founder, TalentOnLease, an IT contract staffing agency.
"When a high-level executive departs from a company, it can provoke uncertainty and prompt inquiries regarding the organisation's future course, strategic objectives, and cultural dynamics."
"This uncertainty often increases anxiety among mid-senior level employees, who may be concerned about potential changes in leadership style, priorities, or possible restructuring," he added.
The IT sector has seen some high-profile CEO movements in the past few months.
Former Infosys president Ravi Kumar S joined as the CEO of Cognizant Technology Solutions this January after a 20-year stint at the Bengaluru-based firm.
Soon after, Cognizant's Chief People Officer Rebecca (Becky) Schmitt stepped down to join as the Chief Human Resources Officer at PepsiCo in June.
Mohit Joshi quit Infosys after spending over two decades to join the top job at Tech Mahindra.
He will take over as MD and CEO when C P Gurnani retires on December 19.
Late last year, Simmi Dhamija quit as the Chief Transformation Officer at Tech Mahindra to join as the Chief Operating Officer-APMEA at Wipro.
Most recently, Rajesh Gopinathan quit as CEO of Tata Consultancy Services (TCS) giving way to BFSI head K Krithivasan, who took charge of the country's largest IT firm on June 1.
Wipro has had intermittent senior-level exits ever since Thierry Delaporte took charge as CEO in 2020.
Recently, Mohd Haque, head of Healthcare and Medical Devices resigned, while vice president Gurvinder Sahni left the company in April to join as chief marketing officer at Persistent Systems.
The industry is likely to see more mid-senior level exits as a CEO's departure can disrupt ongoing projects and initiatives, causing delays and impacting employee morale, said Prakash of TalentOnLease.
"It is crucial for companies to effectively manage leadership transitions, communicate transparently, and ensure that the new CEO can effectively establish trust, provide clarity, and inspire confidence in the future," he added.
To ensure stability when a CEO quits, companies must prioritise robust succession planning, according to Aditya Mishra, MD and CEO, CIEL HR Services.
"By identifying and grooming potential successors, companies can seamlessly transition when a CEO departs, maintaining stability and continuity.
"Additionally, investing in leadership development training is essential.
"Equipping leaders with the necessary skills and knowledge empowers them to navigate uncertainties, drive innovation, and steer the company towards success."
A R Ramesh, director - managed services and professional staffing, Adecco India, concurs with the view that it is important to provide support and resources to employees during these transitions, helping them navigate the uncertainties.
"While change can impact individuals at various levels, including mid and senior positions, it is essential to foster an environment of trust and collaboration, allowing everyone to play a role in driving the necessary changes," he said.