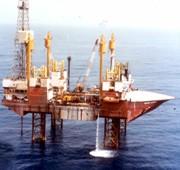 US-based ConocoPhillips is in talks with state-run Oil and Natural Gas Corporation to pick stake in more than one of its ultra-deep-water blocks.

A senior executive from ONGC said ConocoPhillips, US's third largest energy giant, had examined 19 of its blocks and would shortly decide the ones it planned to pick a stake in.

"We have been in talks with ConocoPhillips for sometime. They have studied data for 19 blocks, and would finalise the one they would want to partner us with. They might pick stake in more than one block," an ONGC official said on the condition of anonymity.

Last month, ONGC's foreign arm ONGC Videsh Ltd, in its biggest acquisition ever, agreed to invest $5 billion to acquire ConocoPhillips' 8.4 per cent stake in the Kashagan field off North Caspian Sea.
The deal is expected to be closed during the first half of the next year.

ONGC and ConocoPhillips signed a memorandum of understanding this March for cooperation in exploration and development of shale gas resources in India, North America and other geographies.
The memorandum of understanding was also to explore deep water opportunities in the Eastern offshore basin in India.

"In the first phase starting today we will explore Damodar, Cambay, KG and Kaveri basins for Shale gas. It will last six months. Studies would be done for another 19 deep water blocks," Sudhir Vasudeva, Chairman and Managing Director, ONGC had said during signing of the MoU.

James Handschy, Global Chief Geoscience, ConocoPhillips, had said his company had so far focused on other parts of the world. "Now we want to focus on India, and hence this agreement with ONGC," he had said.

ONGC holds 19 offshore blocks across the Mahanadi, Cauvery and Kirshna Godavari basins and the Andaman-Nicobar Islands.

ONGC has been seeking partners rich in experience and technology for its deep water blocks. Last month it farmed out 26 per cent stake in exploration block KG-DWN-2004/6 to Japanese explorer Inpex.

The ONGC official added that the company is not in favour of farming out majority stake in either of the blocks. "We would like to retain a majority stake in our blocks," the official added.