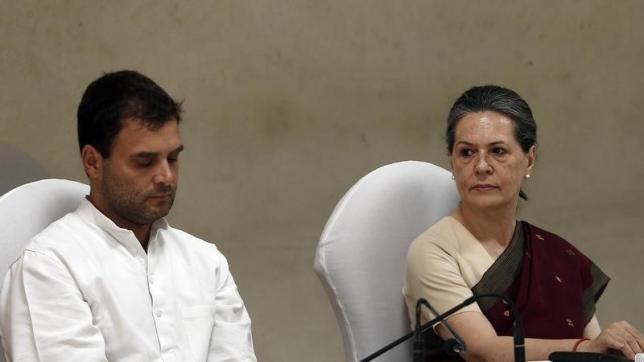 Congress party chief Sonia Gandhi (R) and her son and vice-president of Congress Rahul Gandhi attend the Congress Working Committee (CWC) meeting in New Delhi. Photograph: Adnan Abidi/Reuters
Leaders of India's opposition Congress party held hostage Prime Minister Narendra Modi's hopes of passing a crucial tax reform, as they accused his government on Tuesday of using the courts to run a "vendetta" against the Nehru-Gandhi family.
The government wants to introduce a nationwide goods and services tax to revive its stalled reform programme.
The tax would replace a long list of state levies, raising hopes that it would boost investment by making it easier to do business in India's vast internal market.
Despite having a substantial majority in the lower house, Modi needs the support of opposition parties to get the bill through the upper house.
Hopes were raised that the long-delayed legislation would see the light of day this year after Modi met Congress president Sonia Gandhi last month and both parties.
But prospects of a compromise were cast in doubt on Monday, when a judge ruled that Gandhi and her son Rahul must appear in court in a case brought by a prominent member of Modi's Bharatiya Janata Party.
Furious Congress members stormed the wells of both houses of parliament shouting slogans to protest the case and alleging a "political vendetta" by Modi, who has moved to weaken the legacy of the Gandhis since he dislodged them from power last year.
"I am not scared of anyone," Sonia Gandhi told journalists in parliament.
Parliament was adjourned until at least 3:00 p.m.
"The GST Bill has gone for a sky walk," Anand Sharma, the Congress party's deputy leader in the Rajya Sabha of parliament, told Reuters. His views were echoed by two other party leaders.
Another senior party leader said Tuesday's disruption was the "start" of a protest about the court case.
The Nehru-Gandhi dynasty ruled India for most of its post-Independence era after 1947 and helped shape the country's institutions and self-identity. Detractors, including Modi, accuse the family of retarding economic development with socialist policies.
The current legal case - brought by BJP member Subramanian Swamy - alleges the Gandhis used $13.5 million of party funds to pay debts accrued by a newspaper business. The Gandhis deny wrondoing.
Abhishek Manu Singhvi, a Congress spokesman and a lawyer representing the Gandhis said they were willing to appear at court, but sought more time. He said the case was an example of a "political vendetta at its worst".
"The ruling party in power is using proxy litigation to attack senior Congress persons out of political malice," Singhvi said outside a New Delhi court that decided the hearing would be held on Dec. 19.
Babul Supriyo, a government minister, denied a vendetta, saying the Gandhis could approach court to address their grievances.
"Parliament needs to pass an important bill like the GST. Instead of disrupting the house, they should cooperate," Supriyo said.