Finance Minister Pranab Mukherjee said Indian companies should play a vital role in providing better health care facilities to common people at affordable cost.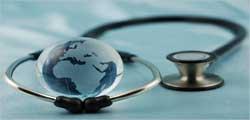 Inaugurating the 135-bed multi-speciality GMR Varalakshmi Care Hospital at Rajam in Srikakulam district, about 150 km from Vishakapatnam, Mukherjee said currently there was a huge gap between the health care needs and availability of medical facilities in the country.

To narrow the gap, corporates should join hands with the state and Central governments to create healthcare facilities through their social responsibility activities, he said.

Indian corporates should donate funds from their profits for the benefit of common people the same way as Warren Buffet and Bill Gates, he said.

"To get the demographic dividend from the young generation in the country, we should provide better health care and training to the youth, then only would the country go forward economically," he stated, complementing GM Rao, chairman of the GMR group, for his social responsibility activities.

The multi-speciality hospital has been set by the GMR Varalakshmi Foundation, the corporate social responsibility arm of the GMR group, in collaboration with CARE Hospitals at a cost of Rs 50 crore (Rs 500 million).

The hospital is located at the GMR campus that houses the GMR Institute of Technology and other educational institutions.

GMR group's business interests extend to airports, highways, power, urban infrastructure and sports.