A group of private milkmen from the National Capital Region (NCR) around Delhi have decided to start a 'Milk City' outside the city precincts and distribute milk at Rs 7-10 a litre less than the current prices.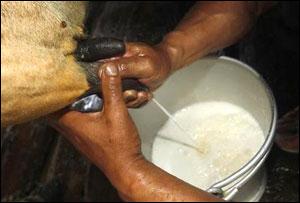 "We have decided to sell the milk on our own because big cooperatives and corporations fleece both the farmers and consumers, by purchasing milk at low prices from farmers and then selling it at high rates to consumers. In the process, big corporations and companies make supernormal profits at the expense of both, the farmers and consumers," said Mohan Singh Ahluwalia, president of the private milkmen, association said.
"The city will come up on 300 acres of land in Gurgaon, and will be developed through the cooperative model. Around 100,000 cattle will be housed in the milk city. Around 8,600 milkmen from areas adjoining the NCR like the districts of Jhunjhunu and Alwar (Rajasthan) and Mewat (Haryana), have already registered with the milk city. In the initial days, around 10,000 litres of milk will be processed in the city which will later be scaled up to 25,000 litres," Ahluwalia informed.
"Instead of distributing milk through conventional methods like vends, we will have a direct link with resident welfare societies and housing societies in the NCR. Members from the housing societies will themselves nominate their representatives who would come to the milk city and get milk extracted and processed right in front of them and then we will ensure it is delivered to the societies," he said.
He added milk would be sold at a flat rate of Rs 30 a litre, less than the current price of milk in the capital.
Last year, private milkmen from areas in and around the NCR had staged a number of protests in Delhi against the high-handedness of cooperative and private milk companies.