The ban on liquor advertising is an example of policy hypocrisy at play, says Kanika Datta.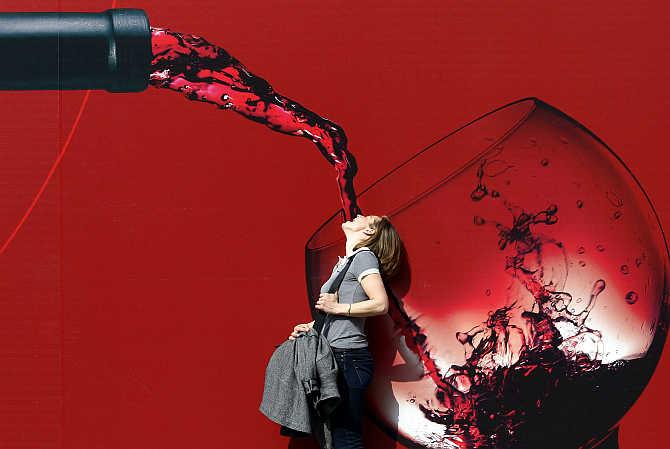 Image: The betting ban is one element of this proclivity, but so are the restrictions on cigarette and alcohol advertising. Photograph: Reuters
Among the many appealing side-stories to Leicester City Football Club's astonishing victory in the English Premier League is the fortune won by a fan who had placed, by his own admission, a "drunken bet" of £5 on this underdog side winning the league.
At odds of 5000/1, he collected £20,600 in the bargain (his winnings would have been higher had he not cashed out £2 a month ago because, he confessed, it had "all got a bit too much").
After spending some of this windfall on a party - which had clearly begun, judging by the rakish top hat and tails he wore to collect his prize - he plans to put the rest on the down payment for a house.
There were two striking points about this winner. One was his profession: he was a carpenter, or what we in India call a "mistiri".
Another was the fact that he earned this windfall legitimately and transparently by placing a bet through a professional betting shop.
His story contrasts sharply with the shady, nudge-and-wink activity that constitutes betting on cricket in India, with its serial discoveries of match-fixing, spot-fixing and other shenanigans involving cliques of cricketers, illegal bookies, small-time politicians and actors, cops and a host of cut-outs to facilitate the transfer of money across countries (Singapore and Dubai appear to be favoured docking points).
Note also that no player of, say, Tottenham Hotspur or Chelsea, the two teams whose 2-2 draw handed Leicester City the Premier League title, has been accused of collusion in the betting sweepstakes.
Ladbrokes, the British betting and gaming firm, was sunnily able to declare this event "the biggest sporting upset since David beat Goliath".
The narrow point, of course, is the practice of outlawing of gambling in most forms in India, a situation no government cares to change for fear of squandering voter capital with some sections of the electorate.
But the broader issue is every Indian government's assumption of the somewhat Victorian role as an arbiter of public morality.
The betting ban is one element of this proclivity, but so are the restrictions on cigarette and alcohol advertising.
These limitations would not attract comment were it not for the undesirable social outcomes that follow.
The argument against the blanket ban on betting (bar horse racing, a colonial inheritance) is raised every time a tawdry match-fixing scandal surfaces. That alone has earned India a poor reputation just as the country has assumed leadership of the cricketing world from the rich countries.
Most enlightened government recognise that it is but human for people to bet on any and everything, so they seek to permit this booming business and gain from the taxes they collect on it.
Betting shops accept punts on any number of issues. For instance, some 25 betting shops offer odds on the Brexit referendum that can be openly checked.
In India, we have the informal satta bazaars, where astounding sums change hands (they are, however, useful transmitters of information - forecasting Narendra Modi's brute majority in Parliament long before the exit polls).
But all these are essentially exclusionary activities that the betting ban unwittingly encourages.
Online gaming has accentuated these distortions and underlined the pointlessness of such bans.
Apart from the black money dimensions to this activity, the prospects of an Indian handyman - an aam aadmi in the truest sense of the term - being the recipient of a bonanza is improbable.
The Leicester City fan was able to celebrate his win openly and buy an asset - even in the UK, where per capita income is approximately seven times India's (in PPP dollars), it's a big deal for a carpenter to own a house.
Had he declared such winnings in India, he would almost certainly have invited the attentions of the police, income tax authorities and Enforcement Directorate.
The ban on liquor advertising is the other example of policy hypocrisy at play.
The Indian liquor market (excluding country liquor where a different social dynamic applies) is the world's third largest and among its fastest-growing.
Yet liquor companies can only advertise their wares through the absurd alibi of branded merchandise - glasses, CDs, t-shirts, sunglasses.
Worse, this surrogate advertising extends to cigarette companies via sponsorships and endorsements.
One tobacco major bizarrely even sponsors a children's bravery award.
It is not clear who is being fooled here (though one long-suffering Shaw Wallace executive once told me they actually have to stock these products because some nutter invariably turns up to demand them).
But it has disagreeable results.
First, it makes a mockery of the dire, officially-sanctioned warnings against cigarette smoking.
Second, it contrives to make social drinking virtually taboo in India - evident not just in the frequently obnoxious behaviour of drinkers at parties, but also in attacks on women drinking in pubs by vigilantes like Sri Ram Sena.
As India crawls up the ladder of prosperity and maturity, it is worth wondering whether any government will be brave enough to lift the proscriptions on these traditional "sin" businesses. Any bets on that?