The trust deficit has widened with buyers losing confidence in a developer's ability to construct and deliver a project on time, leading to a sharp drop in demand, says Shyamal Majumdar.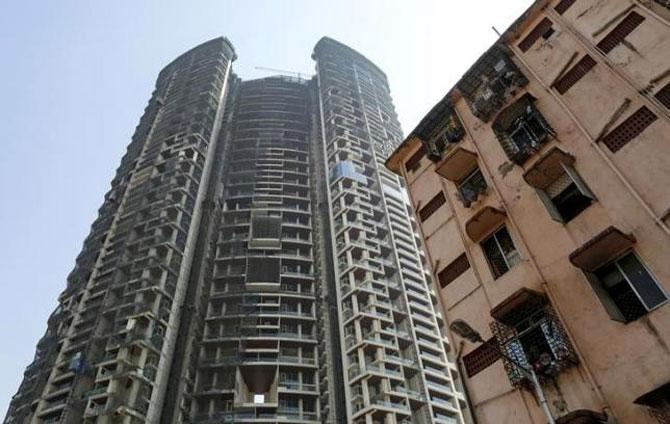 If wishes were horses, India's real estate companies can expect better days in the second half of 2016.

According to a survey titled "Real Estate Sentiment Index", released last month by Knight Frank India and industry chamber Ficci, over 95 per cent of the respondents apparently believe that the sales volume in the residential space will either be at the same level or improve in the next six months.
But many home buyers across the country would perhaps want to know the identity of these robustly optimistic respondents at a time when they have simply nowhere to go but the courts to recover money from even marquee real estate companies, which have reneged on their commitments on price and delivery.
Even that hasn't helped, as several of these firms have told the Supreme Court that they are simply in no position to refund money to home buyers.
"We don't have money. If we had money, we would have constructed the flats and buildings and given to them," the counsel for one of these companies told the apex court, after the judges said the company concerned must refund the money.
The judges have generally held that no company can ignore the rights of flat buyers, who wanted their money back after the projects got into controversy for allegedly violating the law.
In some cases, companies have been asked to pay hefty penalty to compensate flat buyers for delays in delivery of houses.
Those fortunate enough to get possession say they are not getting what they were promised – including the total area – at the time of sale.
As a result, the trust deficit has widened with buyers losing confidence in a developer's ability to construct and deliver a project on time, leading to a sharp drop in demand/prices as well as the number of launches.
Real estate companies, however, think the courts have been harsh at a time when the sector is battling a slowdown and a liquidity squeeze.
Noted lawyer Kapil Sibal summed up the mood when he told the top court that real estate companies "will be finished. It will only prompt a run on the companies. They will sink, but will this help anybody?"
Banks and large lenders like the Life Insurance Corporation of India (LIC) have tried to find a way out of the mess by auctioning assets seized from debt-laden property developers that have defaulted on loans.
Many of them are busy taking symbolic possession of properties because of non-payment of loans.
Symbolic possession means banks are not in physical possession of the properties, but are free to sell the assets.
In this scenario, real estate loans are a strict no-go area for most banks.
This is understandable considering the Reserve Bank of India has continuously flagged high levels of stress emanating from the real estate segment.
Here's why. According to Capitaline data, the aggregate debt of 120 real estate firms has jumped from Rs 59,331 crore (Rs 593.31 billion) in 2011-12 to Rs 83,230 crore (Rs 832.30 billion) in 2015-16.
This sharp rise in debt, coupled with anaemic sales (sales in the top eight cities dipped sharply in the first half of 2016), has meant that the capacity of realty firms to service their debt obligations has deteriorated.
The interest coverage ratio for the 120 firms has declined from 2.5 in 2011-12 to 1.79 in 2015-16, showing the reduced capacity of firms to service their interest obligations.
While real estate developers say things are improving as the average delivery of projects as a percentage of under-construction stock has shown a noticeable increase, many others have a different view.
For example, estimates made by PropEquity show completion of more than half the apartments are likely to spill over to 2017.
What could help improve matters is the Real Estate (Regulation and Development) Act, 2016, (RERA). The law ensures transparency from builders, with stringent provisions for compensation in case of delays.
Under the law, state-level regulatory authorities will be required to decide on builder-buyer disputes within 60 days; appellate tribunals will get another 60 days after that to address disputes over the former's decisions.
The law also mandates developers to keep 70 per cent project money in an escrow account so that it is used only for the project for which it has been raised.
This means they will not be able to siphon off funds to other projects, the biggest reason for delays.
Also, promoters have been barred from changing a project's design without the consent of buyers.
The Act also has a uniform definition for apartment area, another big reason for builder-buyer disputes.
Besides, builders have been made liable for structural defects in buildings up to five years from the earlier period of two years.
The best part of the Act is that it creates a level playing field. At present, rights of both the developer and the home buyer emanate from the agreement for sale.
But these agreements are heavily loaded in favour of the developer.
For example, interest on late payments for consumers is as high as 18 per cent, but the compensation to them by developers in case of a project delay, is abysmally low and varies across contracts.
Under the law, both developers and consumers will have to pay the same rate of interest for delays on their respective parts.
Will these proposals see strict implementation at the ground level? That's another story.
Photograph: Reuters