Vistara has entered a country that has been sobered down to reality. It is no surprise that its business occupancy on all sectors is low, explains Anjuli Bhargava.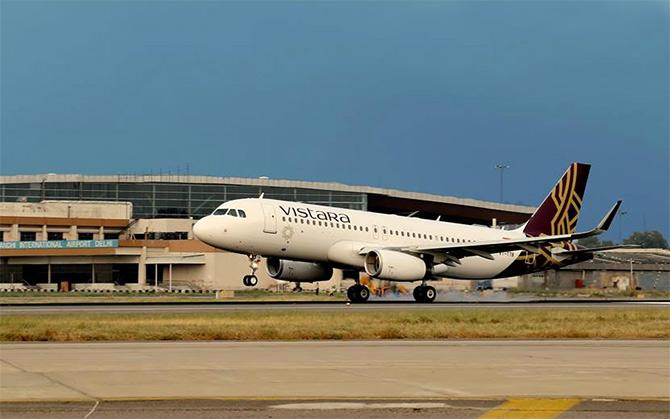 As the months go by, one thing is becoming increasingly clear. The new Tata-SIA venture - Vistara - has its task cut out in India and success, if and when it comes, will be at a high cost.

One of the biggest reasons why I say this is that the affluent Indian passenger's behaviour has changed dramatically, thanks to low-cost airline IndiGo and its efficient ways.
I don't know how many fliers would recall, but there was a time in the mid-1990s when the Jet Airways business class was the first to fill up.
People who had "arrived" wanted to fly Jet business. It gave them an opportunity to make a statement of sorts, network and mingle with others who had, likewise, "arrived".
Often, business deals could be struck or consultants could chance upon new clients, all thanks to a two-hour flight. There was also the snobby lot who couldn't be seen flying "cattle class".
Former Jet officials still remember how people would use "contacts" to try and get a seat in business and were reluctant to settle for the first row in economy - slightly more comfortable but not quite in the right spot.
Then a new era dawned on Indian aviation with the arrival of Air Deccan. Air Deccan offered cheap flights at never-before rates.
But the cheap rates came at a cost; flights were often late, regularly cancelled and generally the service was unreliable. Shoddy was the first word that came to people's mind when they thought of Air Deccan.
A senior aviation industry professional described it to me as a "use and throw" product. Yet it gave many who had never flown a chance to do so.
Deccan expanded the market, added many new fliers - those who could not afford the pricier Indian Airlines and Jet Airways - but it never did get those who still chose to fly Jet and Indian Airlines.
Even as Jet began to lose its sheen due to the troubles it took when it bought Sahara, Kingfisher Airlines came along and the well-heeled flier took to it like fish to water: Here was something more in line with what he deserved.
The swagger, flashy new planes (all blessed by Tirupati priests), prawns, shiny cutlery, smiling and shapely hostesses… he and his employer didn't mind dishing out more for the benefits the airline offered.
Many Jet loyalists switched sides in the heady days of Vijay Mallya's extravagant offering.
Consultants, CEOs, Members of Parliament, actors and actresses flocked to Kingfisher and revelled in the pampering on offer.
But the good days - as we all know - did not last long. And then came along hard-nosed IndiGo - efficient, on time, hassle-free although not a whole lot cheaper.
It gave birth to the practical, sensible flier, who needed to get his job done and no longer cared about where he was spotted.
Even those who had sworn never to be seen flying "cattle class" seemed to find it acceptable.
Many companies - it was also to do with the timing since the 2008 global crisis brought some hard lessons with it - stopped paying for business seats even for its top guns.
Who needed business for a short two-hour haul was the question everyone began to ask. Insisting on business began to look uncool.
With laptops and all kind of devices in tow, you no longer cared who occupied the seat next to you. Gone were the days when you chose your airline based on who else flew it.
So Vistara enters a country - and an economy - that has been sobered down to reality.
And therefore it's no surprise that its business occupancy on all sectors remains low. Even premium economy has been struggling.
As one aviation industry veteran put it: "Business means you are rich, economy means you are poor; who wants to pay more to be seen as middle class (premium economy)?"
The airline has rightly been exploring the possibility of reconfiguring its aircraft and I would say that makes sense keeping in mind the market reality.
Even if the airline manages to fill some premium economy or business seats on the metro routes, it will continue to lose money on Tier 2 and Tier 3 routes, as filling 16 business class and 36 premium economy seats on these will be virtually impossible.
And if it has anyone to blame, it is rival IndiGo, the upstart that managed to alter the psyche of the Indian flier.