A policy-related problem that urgently needs to be redressed is the 'miniaturisation' of projects, notes Ashok K Lahiri.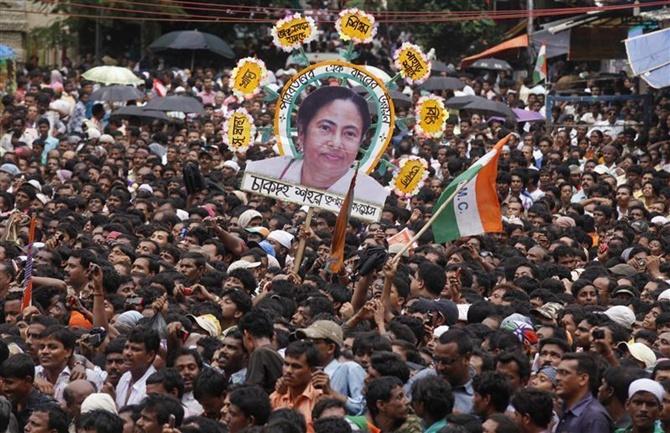 Image: Miniaturisation will not work for industry and infrastructure. Photograph: Reuters
Discussion about West Bengal, happily, has moved from how and why it deindustrialised to how to industrialise.

With the global trend of premature deindustrialisation, it is not going to be easy. Today's developed countries typically grew first by industrialising, and then by moving into services.

In 2013, Dani Rodrik pointed out how in recent times, developing countries are not attaining industrialisation levels reached by the early industrialisers.
Mr Rodrik noted how in Britain, the birthplace of the Industrial Revolution, manufacturing's share of employment peaked at around 45 per cent before World War I and then only fell to reach less than 10 per cent. In contrast, in India, manufacturing employment's share peaked at a meagre 13 per cent in 2002.
Among Indian states, West Bengal led the pack, only behind Bihar, in deindustrialising at a very low level of income. In this newspaper, on May 9, 2014, Amrit Amirapu and Arvind Subramanian provided the data.
Except for Haryana, Himachal Pradesh, Karnataka, Madhya Pradesh, Odisha, and Rajasthan, in all the others the share of manufacturing in gross domestic product or GDP (old series) peaked before 2000. In West Bengal, like in Assam, Maharashtra and Kerala, it peaked as early as the 1980s.

In Bengal it peaked in 1982, after five years of communist rule under Jyoti Basu, and the state's per capita income was only Rs 9,348 at 2005 prices. Only in Bihar did it peak at a lower per capita income.
Recently, there has been progress in industrialising West Bengal, as illustrated by the commissioning of the cement plant at Godapiasal and progress on the proposed offshore floating storage facility for eight million tonnes per annum (mtpa) liquefied natural gas near Digha.
But a policy-related problem that urgently needs to be redressed is the "miniaturisation" of projects.
Take, for example, the state government's proposal to set up six new theme-based township projects at Siliguri (education and health), Bolpur (culture), Asansol (industry), Kalyani (information technology), Howrah (sports) and Baruipur (senior citizen).
They vary from 50 to 127 acres, and miniaturisation is evident when comparison with the 886-acre Gujarat International Finance Tec-City or GIFT city being built near Ahmedabad and the 337-acre Mysore campus of Infosys.
In Kolkata, a 30-metre replica of the 96-metre Big Ben in London has already been built, and a 55-metre replica of the 324-metre Eiffel Tower in Paris is under construction.
These are good ideas for their amusement and aesthetic value. But miniaturisation will not work for industry and infrastructure. Even 20 50-acre townships will not generate benefits equivalent to a 1,000-acre township.
Miniaturisation of projects, most probably, has resulted from the problems of land acquisition. All the six theme-based townships are on government land, and such land is limited. Acquiring land has proved to be the major bottleneck for growth of infrastructure and industry.

The story of Tata's proposed Nano project in Singur is too well-known for repetition. Now, the state government is trying to promote industry and even infrastructure only in land vested with the government, such as in West Midnapore. This will not work.
The development of Amritsar-Delhi-Kolkata Industrial Corridor (ADKIC) is proposed to be taken up in a band of 150-200 km on either side of the Eastern Dedicated Freight Corridor, in a phased manner.

In the first phase, every state is expected to promote at least one integrated manufacturing cluster of about 2,470 acres, where 40 per cent area is permanently earmarked for manufacturing and processing activities.

The AKDIC will pass through the cities of Asansol, Durgapur and Kolkata in Bengal. How will the state promote an integrated manufacturing cluster of 2,470 acres with only government land?
Bengal has sought Rs 2,000 crore from the central government for improving infrastructure at Petrapole. bordering Bangladesh.
Does the government have enough land at Petrapole to develop a world-class cross-border trade facilitation facility? Similarly, will the path of a national or state highway always pass through government land alone?
West Bengal suffers from too many people and too little land. With 1,029 people per sq km, it is the second most densely populated state in India, after Bihar.
Decadal population growth of the state at 17.77 per cent and 13.93 per cent during 1991-2000 and 2001-2011 were below the corresponding all-India total of 21.54 per cent and 17.64 per cent.
The relatively lower growth compared to the national level as well as its deceleration over time are positive developments overall. But the population is still growing, and so is pressure on land.
Urbanisation concentrates economic activity, enhances productivity and creates jobs in manufacturing and services.
"Reviving Kolkata: The City that Got Left Behind," the title of an article in The Economist on January 9, 2012, captures the challenge appropriately.
Between 2001 and 2011, the population of Kolkata shrunk by 1.9 per cent to 4.48 million.
In 1971, West Bengal had 24.7 per cent of its population in urban areas compared to the national figure of 20.2 per cent. By 2011, the national urbanisation rate of 31.2 per cent was within striking distance of Bengal's 31.9 per cent.
"Slow, messy and hidden" is how a World Bank report describes urbanisation in South Asia. It applies to urbanisation in Bengal particularly well. West Bengal needs to urbanise fast and handle urbanisation well to reap significant benefits from urbanisation.
Agriculture cannot gainfully provide employment for much of West Bengal's working age population from a total of over 91 million.
Land is scarce, and net sown area constitutes 62.89 per cent of the reported area, with area under non-agricultural use and forests covering 13.48 per cent and 18.52 per cent.
The residual of about 5.5 per cent is accounted by categories such as fallows and waste land.
To assume that urban centres and industrial areas will come up only in fallows and waste land is an unrealistic expectation.