The government's initial promise and energy seems to have dissipated, says Shyam Saran.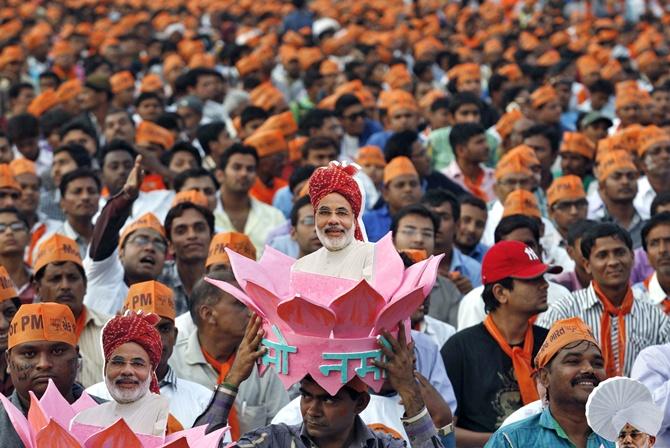 Disappointed expectations threaten to cast a shadow over the Modi government as it completes two years in office.

This is a pity, because even those who were not enamoured of his politics wanted Narendra Modi to succeed for India's sake.

His reputation for decisive leadership and for getting things done, his modern temperament and public embrace of economic reforms and liberalisation, combined with the Bharatiya Janata Party's parliamentary majority, represented a rare confluence of ingredients for India's long awaited emergence as a major and successful plural democracy.
Mr Modi's early actions appeared to confirm that transformation was around the corner.

This was the first prime minister who did not shy away from a public commitment to move away from a subsidy- and entitlement-based policy to one based on empowering the citizen and creating jobs.

He has been upfront in welcoming foreign investment as contributing to the country's development.

He has launched schemes which, if implemented, could be significant in ensuring inclusive growth.

These include the Jan-Dhan scheme for financial inclusion, the crop insurance scheme for farmers and extending, step by step, the Direct Benefit Transfer (DBT) scheme for targeted subsidies.

Unfortunately what we are witnessing now is the familiar problem of slow, even faulty, implementation.

In addition, electoral pressures appear to be slowing the pace of reform. There is the danger of revival of populist policies.
Any ruling dispensation in India has maximum political clout and space for undertaking significant reforms in the first few months after being elected.

Thereafter, diminishing returns set in as the focus shifts towards political consolidation. The Opposition begins to regroup and prevent departures from populist measures.

For the same set of reforms, progressively more political capital needs to be expended the later one is into the tenure of the government. This is evident in the way politics has played out over the past two years.
One is surprised by Mr Modi's accommodating attitude towards those elements in the BJP and the RSS who are clearly not aligned to his development and modernisation agenda, the non-sectarian and non-partisan spirit of his slogan, "Sab ka saath, sab ka vikas" ("Together with all, development for all") and his fervent advocacy of plural democracy.

A significant part of Mr Modi's appeal to the youth of India and which gave him an electoral edge over rivals was his projection as a leader who had transcended India's caste and sectarian divide and was attuned to the aspirations of a generation coming into its own.

The inept handling of students' agitations in Hyderabad and Delhi, now playing out at Jadavpur University in Kolkata, threatens to lose him the support of this most important constituency.

The politics of polarisation being indulged in by these elements will end up overturning Mr Modi's positive and potentially transformative agenda.

Any calculation that once the politics of polarisation has delivered, as is assumed, electoral gains and political consolidation, there will then be time to implement the original progressive agenda, is an illusion.

Once the genie of sectarianism is out of the bottle, it will be difficult to contain it.
The economy appears stable but is not growing at a rate which can deliver jobs and earnings for young people entering the market each year in their tens of millions.

While there is an increase in foreign investment, domestic investment and employment remain flat. The situation is complicated by a global economy and trade still mired in persistent stagnation.

Structural reforms such as the adoption of the GST, a flexible labour regime and rationalisation of land acquisition regulations have fallen off the policy radar while the banking sector, in particular public sector banks, increasingly stressed by growing non-performing assets, can no longer delay long-pending restructuring.

Several ad-hoc measures are being taken to deal with specific situations but an overall economic strategy, within which these moving parts can fit together with a degree of coherence, is absent.
We live in a world where most challenges are cross-domain with strong feedback loops.
The current drought is as much a problem of water security as it is of food and energy security. There is a climate change dimension which we cannot ignore. Yet we do not see any cross-sectoral assessments or responses.
Foreign policy is one area where Mr Modi displayed sound instincts, innovative initiatives, and energy to match.
His over-riding priority to the neighbourhood was long overdue and the consolidation of strategic partnerships with the US and Japan showed an awareness of India's economic and security challenges and the countries best placed to help India meet those challenges.
His posture towards China was carefully nuanced, balancing cooperation with clear determination to safeguard India's interests.
There is now a growing perception that these early and positive trends are getting dissipated and there is no overall national security strategy within which a coherent and effective foreign policy may be formulated and effectively executed.
It is clear that Mr Modi wants to be seen as an international leader with a close and personal relationship with the world's key leaders.
Personal diplomacy can be a useful instrument for advancing national interest provided one is clear about what one wants to extract as a benefit and what one must resist in making concessions demanded by the other side.
One must never sacrifice substance for the privilege of getting a seat at the high table or being accorded pomp and ceremony. Image must serve substance not the other way around.
There also continues to be more stress on events and not enough on process in the conduct of foreign relations.
The commitments made in the first wave of visits, for example to neighbouring countries, remain largely unimplemented. And this undermines the credibility of the government and Prime Minister Modi himself.
Institutional reform to enable speedy and quality delivery is needed urgently
The third year of a five year tenure of a government is, in a real sense, a make or break period.
There is still time to return to the original and expansive national agenda.
The space for course correction still exists. For India's sake one hopes that Mr Modi will grasp the opportunity firmly before it slips into the what-may-have-been land.
The writer is a former Foreign Secretary. He is currently Chairman of RIS and Senior Fellow at CPR.
Photograph: Reuters