Despite Mr Modi's consistent demonstration of purpose, industrialists have the same complaints as they did in the UPA's second stint, notes Kanika Datta.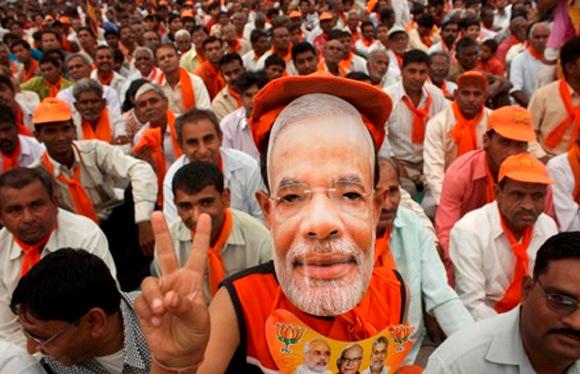 So Prime Minister Narendra Modi wants Indian industrialists to increase their risk appetite and step up their investments in the country to contribute to "nation-building".

It is an appropriately muscular statement from our "strong" prime minister. The question is whether he has a realistic assessment of the risks Indian businesses face.
Mr Modi would be aware of the most potent current symbol of failed risk-taking in the over Rs 3 lakh crore worth of bad loans most of it held by government-owned banks.

That is testimony to the failed infrastructure push created by the ambitious but poorly designed public-private partnership policies of the United Progressive Alliance (UPA) coalition.
That is why many industrialists anticipated his party's 280-seat mandate in the Lok Sabha as the harbinger of stability and progress after the UPA's famed "policy paralysis".
Like Mr Modi, Manmohan Singh, too, consulted leading industrialists -almost the same bunch, too - for solutions to their problems.
In fact, with something like eight councils to advise him on various issues, including a high-powered one for trade and industry, Dr Singh was certainly not short of advice. But we know how that panned out.
Mr Modi is unlikely to have been a stranger to the counsels of industrialists he met on Tuesday either.
He's met, talked with and importuned most of them at serial Vibrant Gujarat summits when he was chief minister plus his various branded missions, Digital India, Make in India, Skill India and so on and so forth.
Strangely, despite Mr Modi's consistent demonstration of purpose through these programmes, industrialists have the same complaints as they did in the UPA's second stint.
So by putting the ball back in their court, as it were, Mr Modi is hardly being constructive.

As a "business-oriented" politician, he must surely know that business risks are, in fact, a function of a de-risked environment, where political stability must converge with progressive policy.
On that count, it is uncertain how far things have fundamentally changed.
The India Risk Survey 2015, jointly produced by Ficci and risk management consultants Pinkerton, which reflects the perceptions of business leaders and professionals across sector and regions, suggests that, if anything, things have gotten a little more serious.
Certainly, of the 12 key risks that pose a threat to the country's economic system, "Political and Governance Stability" appears to have almost disappeared as a concern - it ranked 11 in the 2015 survey, against 3 in 2014 and 2 in 2013.
But critically, "Corruption, Bribery and Corporate Frauds" ranked as the leading risk for the second year in a row, up from number four in 2013. Clearly, this element of India's "doing business" environment is yet to change significantly (something any exporter or transporter can confirm).
But it was the third-ranked risk perception to which Mr Modi and his government may want to pay attention.
"Terrorism and insurgency" jumped seven points from 10th rank in 2014. This covers both cross-border terrorism and internal conflicts.
Between the two fiascos that constitute our Pakistan policy and the growing number of low-intensity communal incidents, there is little here to reassure even the most intrepid of businessmen.
Business risk-taking is much more than a function of physical safety for investment in manufacturing; it includes innovation, the activity that ensures companies cutting edge competitiveness.
Had Mr Modi cared to include some start-up entrepreneurs in Tuesday's meeting, he may have acquired a better understanding of the kind of operating environment that enhances innovation.
A vibrant and autonomous academic environment, for instance, has played a critical role in the US' prolific successes in industrial innovation - and Silicon Valley, which Mr Modi will shortly visit, remains the ultimate example of a successful industry-academic complex.
The antics of our HRD minister over the past year, however, do not raise confidence that India can replicate that model anytime soon.
The ability for entrepreneurs to absorb serial failures is another critical requirement for which robust bankruptcy laws are vital.
India does not even have one yet, though the tortuous process of consultation and drafting has begun.
It is telling that "Information and cyber security" ranks as the second biggest risk concern in the Ficci-Pinkerton survey - this in a country that prides itself on its global IT prowess.
All of this suggests that the environment for risk-taking in India is far from optimum.
India's businessmen are reasonably intrepid. But after their experiences under the UPA, they can be forgiven if they take a rain-check on Mr Modi's request.