Can India's corporate leaders not summon the courage to shed their amorality and lobby hard to tamp down the fires of gender and communal conflict that so afflict India today?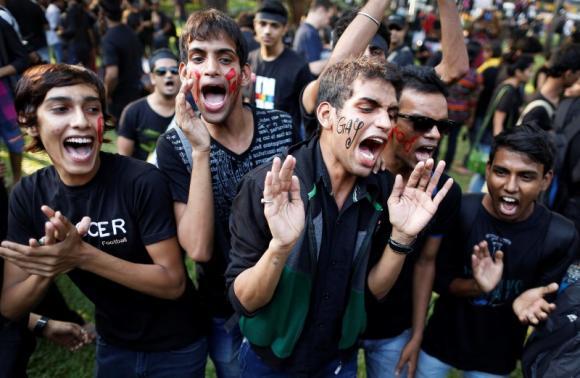 Gay rights activists shout slogans during a protest against a verdict by the Supreme Court to reinstate a ban on gay sex. Photograph: Danish Siddiqui/Reuters
Corporate India prides itself on being forward-looking, a valid self-assessment as far as the specifics of business are concerned - that is, in terms of adopting technology and other best practices.
Indian corporations have indubitably led India's economic transformation, which is why the corporate sector plays an influential role in the political economy today.
Odd, then, that when it comes to social advocacy, corporate India lags global best practices by at least a century, even though social progress is a multiplier for business growth.
This was underlined last week when Apple Chief Executive Officer (CEO) Tim Cook declared he was gay in an article in Bloomberg Businessweek to general approbation from the western business community.
No one expected Indian CEOs and executives to come leaping out of the closet in response - though it is hard to believe that this tribe is entirely hetero in sexual orientation - for the practical reason that Section 377 of the Indian Penal Code remains on the statute books.
But the conspicuous inaction in lobbying for change in a law that keeps India in the dark ages stands in stark contrast to the record of their American counterparts that they seek to emulate in so many other ways.
The thing about Mr Cook's revelations was that corporate America had created the conditions that made it possible for him to do so without attracting opprobrium.
As importantly, many American corporations have been swift to robustly stay in step with the mainstream agenda for social reform by championing Lesbian, Gay, Bisexual and Transgender (LGBT) rights.
This suggests a commendable degree of progressiveness for a group that is usually censured for innate conservatism.
Over the recent past, some of America's largest and most respected corporations have lobbied for LGBT rights and actually led the law in this respect.
It was corporate America's signature names - Google, Starbucks and Facebook - that filed briefs to persuade the United States Supreme Court to overturn in 2013 the archaic Defense of Marriage Act, which prevents spousal benefits to same-sex couples.
Many corporations extended benefits to same-sex couples well before the law was overturned.
Nor has this been a century-long struggle. Although several American states started repealing their sodomy laws in the 1970s, it was only in 2003 that the concept of LGBT rights gained nationwide traction when the Supreme Court struck down sodomy laws in 14 states. By the start of 2014, a report from Human Rights Campaign, a civil rights organisation, said 304 United States companies had a perfect "corporate equality scores" of 100, up from 252 in 2013 and 189 in 2012.
This means these companies - and the newcomers to the list include Nissan, Procter & Gamble and General Electric - offer non-discriminatory policies for LGBT employees, including health benefits for same-sex partners.
In India, such suggestions tend to be met with embarrassed or hostile silence. It is possible to argue, of course, that outlawing homosexuality is the least of India's social problems right now.
True, but there are others points to be considered. One, as a commentator pointed out, Apple is a global corporation.
What will happen when Mr Cook or openly gay executives of global corporations visit their subsidiaries in jurisdictions where homosexuality is outlawed? India happens to be one of the 78 countries in this category.
Second, what exactly have Indian corporations done to alleviate the two social ills that do impact India and, by extension, Indian business?
Women's rights and safety - or the patent lack of them - far outstrips homosexuality as a social issue in India.
Again, it is American corporations that set the standard by introducing their global best practices in human resources in their Indian subsidiaries in terms of maternity support and so on. Otherwise, outside of the financial sector, it is an open secret that Indian corporations tacitly - never openly - discriminate against hiring and rewarding women and few heed the strictures of the sexual harassment laws.
There are honourable exceptions to this, of course, but they only accentuate the general trend.
So far, the response has been token and top down, by mandating women's representation on boards. It is a move that has been unpopular with professional women who prefer to be judged on their abilities rather than their gender.
On women's safety, there is a stunning silence, although the BPO business has been steadily losing its advantage to nations in east Asia owing to the costs involved in transporting women employees safely to and from work. Or what about the resurgence of communalism?
After the Gujarat riots of 2002, a few courageous corporate voice, such as Anu Aga of Thermax and Azim Premji of Wipro, expressed dismay only to be stifled by a craven apology from a business lobby.
On the absurd love jihad campaign in Uttar Pradesh, only one businessman, Zafar Sareshwala, a staunch Muslim defender of Mr Modi, protested.
He made a pragmatic point in this context: "Do you think Adani or Ambani will ever put up a plant in Uttar Pradesh?
They will run away." Rightly or wrongly, corporate India has emerged as Mr Modi's most steadfast supporter.
It is clear that he sees it as one of the vehicles for his millennial vision for India. Can India's corporate leaders not summon the courage to shed their amorality and lobby him to tamp down the fires of gender and communal conflict that so afflict India today?