The government should take steps to mandate that companies have at least two women board members, and at least one of them should be an independent director, in the next two years, says Arun Duggal.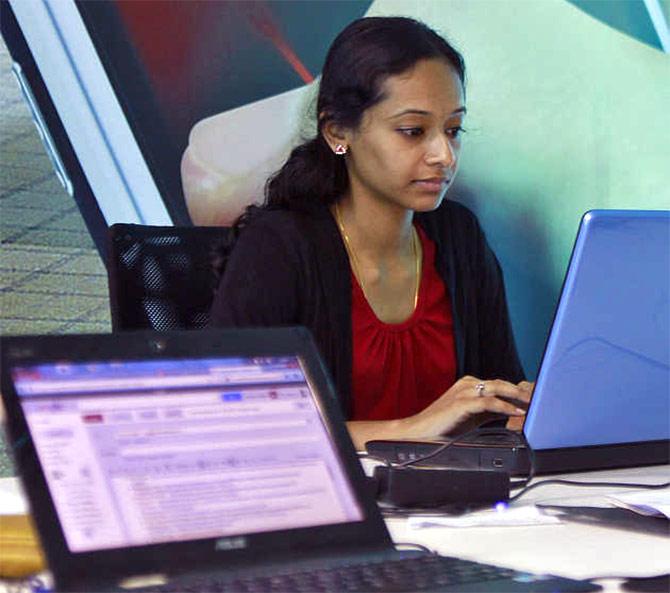 The Companies Act, 2013, and the Securities and Exchange Board of India's guidelines have mandated that corporate boards have at least one woman director.

It has been mostly complied with, though, with initial reluctance by some companies.

Many companies took the easy way out, and had a woman from the promoter family join the Board.

However, as more women have joined corporate boards, it is becoming apparent that the impact of this gender diversity on corporate governance and board functioning is quite positive. The time has come to build on this successful initiative and move to the next stage: "Women on corporate boards 2.1". The government should mandate that companies have at least two women directors, at least one of them being an independent director.
In 2010, I started advocating the idea of having more women join corporate boards.

After all, more than half of the customers of many companies, a significant proportion of employees, and other stakeholders are women.

It makes all the more sense to have them represented in corporate boards and gain from their insights and perspectives. Most corporate leaders were quite supportive.

Some of them were perhaps not fully convinced, but it was the politically correct position to take.

But all of them raised the fundamental issue of lack of availability of board-ready women candidates. In corporate India, there were, at that time, perhaps less than 100 women independent directors.

All distinguished women and in great demand, but beyond them there was no supply of professional women trained to join corporate boards. To bridge this gap, we launched the Women on Corporate Boards Mentorship programme in 2012.

Under this we requested senior corporate leaders to each mentor one promising professional woman to train and prepare her to join a corporate board. The response from both the mentors and the mentees was excellent. The programme has been successful and is now managed by www.ficci-ccg.com.

Two batches have completed the programme and the third batch is underway. Mentees from the first two batches have over 100 board positions.

In general, there has been a lot of progress in improving gender balance in corporate boards in India in the last few years. Several companies have appointed more than one woman director.

One company is planning to have an all-women board. At the same time several companies, many of them public sector undertakings, have not yet appointed a single woman director. Perhaps the chairmen of
these companies have the mindset of former US president Richard Nixon, who said, "I am not for women, frankly, in any job. I don't want any of them around. Thank God we don't have any in the cabinet."

How times have changed. The US may have a woman president next year. The issue of having more women on corporate boards is being debated in many countries.
Norway, the pioneer in this area, mandated 10 years ago that at least 40 per cent of all board members should be women.

Most European countries are moving towards at least 25 per cent of women board members. Even in a traditional country like Japan, where a woman could enter a boardroom only to serve tea until recently, there is a move to have at least one woman board member.

What has been the impact of having women board members in India? I explored this with many women directors, board chairmen and independent directors.

A clear pattern is beginning to emerge that women board members add to the effectiveness of the boards and improve the quality of discussion and decisions.

Generally, women board members take their responsibilities seriously, are keen to learn companies' business and strategy, and are well prepared for the board meetings.

They are respectful of the management and other board members and relate well with them. They bring more orderliness to board discussions and are good at gently building consensus in the boardroom. Their insights as customer, as mother and as professional women are extremely valuable.

On issues like gender diversity, equal opportunity, sexual harassment, corporate social responsibility programmes and fairness to customers their views are extremely useful.

In general, they are thoughtful and less risk-taking and thus provide important balance in a board's decision-making process. An important benefit is that with women on corporate boards, women executives in the company are highly motivated and the glass ceiling has been cracked.

Even many of the promoter family women directors are making excellent contributions as board members. Better than their brothers and cousins in many cases.

Gender diversity in corporate boards is a social change in corporate India. It will need time to take hold and expand. Women also are at a disadvantage: they are inclined not to spend time on socialising and networking.

They are outsiders to the old boys' club. Also, being an only woman on a board, treated sometimes as a "token", is not easy. Therefore, further helping hand and intervention are needed to build on the success already achieved.
The government should take progressive steps to mandate that companies have at least two women board members, at least one of them being an independent director, in the next two years.

I am convinced that over time women will be viewed as excellent directors because of their contributions to the board rather than as women board members mandated by regulation.
The author is an experienced independent director and board chairman.