It is comforting to know that ours is not the only country that has had to deal with this transition from small, labour-intensive retailing to large-scale, "big box" operations, writes Ajit Balakrishnan.
The battle for India's retail market is being fought not just in the halls of Parliament and on the front pages of newspapers but also on the little stretch of road near my home in Mumbai, where Colaba Causeway peters out into Navy Nagar.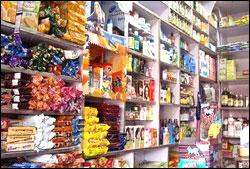 The outsize name board, "Patel General Stores", had proudly announced itself for as long as I can remember.
Recently, however, I noticed that the board had been painted over with an advertisement for Classic cigarettes. The words "Patel General Stores" were banished to the bottom-right corner of the board.
I guess young Chetan Patel, who inherited the store from his uncle, concluded he could use the extra money from this advertising arrangement.
Teenage Library, Patel General Store's neighbour to the left, has long weathered modernising forces: once a lending library of Mills & Boon romance books, it has gone on to stock CD rentals and, of late, DVD rentals of art-house movies.
Flashman Cleaners ("Curtains, Carpets, our Specialty"), to the right, was not as lucky. A few months ago, after Presto ("Global Leader in Quality Dry-cleaning") was set up a few yards down this row, Flashman's ageing owners thought it wise to call it a day.
Across the road is a taxi stand where there is usually a line of yellow and black taxis. The taxi drivers, mostly from eastern Uttar Pradesh, chew pan, gossip and share an easy camaraderie.
Baba, a tan dog that they have jointly adopted, lounges around too, waiting for food scraps. On rainy nights, the taxi drivers let Baba sleep with them in their taxis.
The taxis are also their home till the drivers have earned enough to be able to afford part of a room in Murthy Nagar, the nearby vast slum that is home to the drivers, shop boys, dhobis and domestic help who serve wealthy neighbourhoods of Colaba and Cuffe Parade.
Patel General Stores' competitive strategy pivots around fast home delivery, and opening before and closing later than other shops in the neighbourhood. This is based on receiving a constant stream of school dropouts from their village in Gujarat.
Each new arrival works the long hours that Patel demands, gets to sleep at the back of the store, and uses the public lavatory nearby to change and bathe.
Mere minutes after we phone to place an order for, say, a soda crate, the doorbell rings, and there stands one of these boys, beaming, with the soda crate balanced on his head.
I have also heard that some of our more indigent neighbours get one-month credit to settle their bills, which add a third leg to Patel's strategy.
Patel General Stores' business model, and that of 11 million other stores like them in India, is going to be even more reliant on fleet-footed young men dropping out of school in rural areas.
What may be at stake here is a system that currently serves as our economy's shock absorber: farming families, unable to support themselves, take their young sons out of school and send them to earn a living in the retail trade in cities.
It is comforting to know that ours is not the only country that has had to deal with this transition from small, labour-intensive retailing to large-scale, "big box" operations. In the United States, large-scale retailers now account for 80 per cent of the country's retail business.
The pain of transition in their case was bearable, partly because the growth of large-scale retail in the 1960s occurred in the newly booming suburbs of America. Retailers in American cities escaped these pressures for a long time.
But even in America, the battle is far from over. Walmart's battle to open its first store in Manhattan continues to this day; a noisy coalition of corner-store owners, green activists, neighbourhood groups and labour unions has thwarted the retail major's efforts so far.
Then there is the case of France. In the 1970s, as the giant retail formats started gaining popularity, France's Parliament passed a law requiring proposals for retail outlets with a sales area larger than 10,000 square feet in urban centres to get approval from a local board of citizens comprising self-employed shopkeepers, consumers and local politicians.
Refusals can be appealed to a national-level board. This has kept French cities so charming and is, also perhaps, the reason why things cost so much in France.
Last week, we were strolling this world when we noticed Chetan step out of his shop on a busy morning to feed a biscuit to Baba, the taxi drivers' dog, which had been waiting hopefully - with his tail mildly wagging - for his morning meal.
Comments to ajitb@rediffmail.com