The question may sound irrelevant, but several public sector banks seem to have a different view, says Shyamal Majumdar.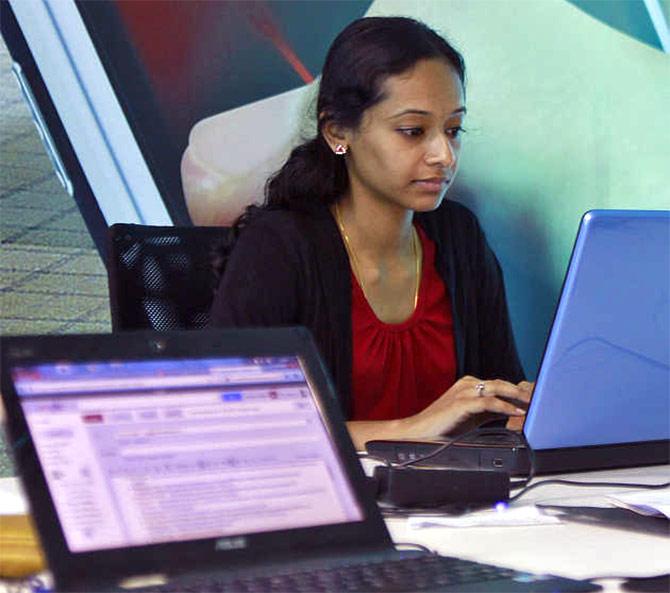 Image: Bank managements say it is wrong to suggest they follow a uniform rule of denying the right to resign. Photograph: Reuters
Business Standard carried a letter to the editor last week, which said public sector banks (PSB) had taken away the right to leave a job.

The letter went on to add that in PSBs, officers were not allowed to resign, except on medical grounds, and their applications for resignation were rejected summarily, even if there were no vigilance cases pending against them.
Sounds absurd? Not really. Here is the account of a bank officer who resigned after she was transferred to a place that had no direct road or rail link with her hometown where her family was based.

Before resigning, she made representations to the bank, which rejected her plea on the ground that it would set a bad precedent. She ultimately resigned and gave due notice.
Conventional wisdom says that should have been the end of her professional relationship with the bank. But that wasn't the case.

The bank didn't accept her resignation and sought an explanation from her for taking unauthorised leave for 10 days sometime in the past.
Her explanation that it was an emergency leave and that she was willing to pay up for those days of absence obviously didn't wash, as the bank management asked her to return to her place of posting till the "dispute" was satisfactorily resolved.

After many emails and letters went back and forth, the employee has taken the bank to court for denial of her fundamental right to leave a job.
Yet another PSB employee in his early 50s says he submitted his resignation, as he was getting bored with the nature of the job and wanted to explore options.

What followed was a nightmare: he was told there were several pending customer complaints about the kind of service he had delivered during his postings in several places across India and that he had to wait till all these complaints reached a closure.

The bank also said his continuation in service was necessary, as his presence would be required while dealing with these pending complaints.

Repeated requests to the top management and explanations that none of the complaints indicated any fraud on his part helped him.

His resignation was accepted - but over nine months after he had put in his papers.
Still, the employee considers himself lucky for two reasons: one, he didn't have to go through the "expensive" process of litigation and, two, the nine-month gap didn't affect him much, as he was anyway planning to take a long sabbatical.

But there are cases galore of employees failing to join another company of their choice, as the banks concerned delayed the relieving letters on some pretext or the other.
To be sure, things aren't usually back to normal if an employee withdraws the resignation following counseling by the higher authorities.

A now-retired bank official recounts how the mental harassment started after he withdrew his resignation rather late in his career.

Three months after the withdrawal, he was transferred to what the bank called a "less taxing" job.

The shift happened barely a couple of months before his promotion process was due, ruining his prospects.
These are not isolated cases. In a December 2014 case (Shashikala Devi vs Central Bank of India), the Supreme Court directed the bank to release pension to the widow of a clerk, who made the mistake of "resigning" from his service after 34 years.
That's because banking service rules say resignation, dismissal or termination of service disqualifies an employee for pension benefits.
However, the apex court ruled that the bank should consider the spirit of the rules. "It will be too imprudent for anyone to suggest that an employee, who, at the time of writing the letter, was left with just about one and a half years of service, would have so thoughtlessly given up retiral benefits," the court said.
There are several such cases in courts across the country, showing the human resource practices of PSBs in poor light.
Bank managements, however, say it is wrong to suggest they follow a uniform rule of denying the right to resign, and argue these are stray cases that may have been mishandled by a few overzealous junior employees.
In any case, they say exceptions don't prove the rule. The jury is, however, out on this.