Businesses as diverse as pharma, automobile and telecom are willing to risk diversifying into unchartered areas, notes Shailesh Dobhal.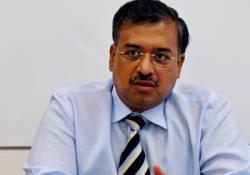 The country's pharma king, and now the richest Indian too - Dilip Shanghvi - wants to get into renewable energy and payments bank.

In a private investment in wind turbine maker Suzlon, Shanghvi recently bought almost a quarter of the firm for around Rs 1,400 crore (Rs 14 billion).

Munjals - the owners of India's numero uno bike maker Hero MotoCorp - have sold part of their stake in the firm for over Rs 2,800 crore (Rs 28 billion) to dabble in infrastructure and defence.
The Tata group is rediscovering its aviation roots with the launch of Vistara airline and has now bid to build airports. Gautam Adani, too, is extending his ports-to-power infrastructure franchise to include airports.

And in a two-step deal worth over Rs 2,000 crore (Rs 20 billion), Anil Ambani-led Reliance Group pipped Mahindra & Mahindra to bag Pipavav Defence, a private shipyard, with orders to make warships for the Indian Navy.

Bharti Airtel has got into a partnership with the Kotak Mahindra Bank to transform its more than 200 million subscriber base into a financial powerhouse, should it win a licence from the central bank.
One could go on, but you get the drift. In their eagerness not to miss the next big growth opportunity, businesses as diverse as pharma, automobile and telecom are willing to risk diversifying into unchartered areas.
Though it is anyone's guess whether these recent moves will bear fruit or not - and many an announcement may remain just that - it is apparent that businesses and businessmen have started rediscovering their animal spirits of late.
Doubting Thomases will point to the tentative state of the economic turnaround, the lack of any real private investment on the ground to paint some of these moves as flashes in the pan, or opportunistic moves at best.

One can also argue that all this diversification is the antithesis of C K Prahalad and Gary Hamel's Core Competency theory - that a combination of skills, product and geographical markets, and industry foresight defines a firm's competitive advantage - and may ultimately come to naught.
Be that as it may, if history is any indication, it helps businesses not to remain hostage to conventional management wisdom, more so in an emerging market like India where many erstwhile closed markets, such as defence, are opening for private and foreign participation only now.
Take the Tatas, for instance. In the early 1990s, when the group's truck-dominated automotive arm Telco - Tata Engineering and Locomotive Company - rechristened Tata Motors in 2000s, was getting into cars with Indica, not many gave it half a chance to be a big player in the global auto industry dominated by the Japanese, the Koreans and the European carmakers.

Though the firm's domestic business has floundered of late, and its small car Nano looks like a millstone around its neck, the ownership of marquees such as Jaguar and Land Rover has given it a key position in the global pecking order.
Businesses are quick to realise that Prime Minister Narendra Modi's 'Make In India' pitch squares with the script of a big and growing domestic market spawning a vibrant domestic industry across sectors - from soaps, cars to medicines.

So why should defence equipment, where India imports over two-thirds of its requirement, be any different?

Upping foreign participation to 49 per cent and leveraging the country's purchasing power in this sector will hopefully bring in technology and products sorely needed to kick-start vibrant domestic manufacturing.

Little wonder that in the absence of any big legacy player, the likes of Munjals and Ambanis are rushing in.
Or, take the rush for payments and small back licence, where over 100 players have applied. Now who is to say that running a payments bank - one that will ostensibly facilitate small money transfers across the country - is merely an existing banks' core competence?
Now a big marketer like Bharti Airtel, with over two decades of experience in handling a complex and well spread out distribution network serving millions of customers, too, can bring its experience and technology to offer financial services to millions of customers across the rural-urban divide.
And if a Videocon, a Biyani, or even a technology firm like Tech Mahindra thinks they can step up to the opportunity, all power to them.