Climate negotiators from 200 nations are currently locked in bitter and acrimonious discussions in an 11-day long conference being held in Doha, writes Rajni Bakshi.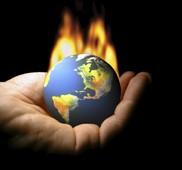 A report about rich countries cheating poor countries of about $30 billion in climate funds made headlines last week.

Research by Oxfam, an international NGO, has shown that countries which are largely responsible for the pollution that has caused climate change have failed to deliver funds they had promised to help poorer countries adapt to climate change.

While this bad news calls for serious action it can also be an impetus to look more closely at other aspects of containing climate change -- most notably our everyday consumption patterns.

While there is a small glimmer of hope on that front the immediate political battles are naturally focused on the urgency of negotiating a strong international treaty to contain climate change.

In this context Oxfam's study highlights the dire implications of the fact that developing countries are now facing a climate 'fiscal cliff' because the Green Climate Fund remains empty. Another mechanism known as Fast Start Finance has been described as suffering from a false start.

This is a consequence of the governments of rich nations not delivering on commitments they made at the Climate summit in Copenhagen in 2009.

The promised money is supposed to fund both  adaptation and mitigation projects in countries of the South, most of which are expected to bear the brunt of climate change related problems.

Climate negotiators from 200 nations are currently locked in bitter and acrimonious discussions in an 11-day long conference being held in Doha.

These talks are intended to set a time frame and country targets for the second period of the Kyoto protocol on climate change.

Early reports on these talks indicate that no viable deal for tackling climate change is yet in sight.

Christiana Figueres, who heads the UN Framework Convention on Climate Change said at a press conference that while she has not given up hope she does feel frustrated that "we are very far behind what science tells us we should be doing.'

Meanwhile yet another study  indicates that that the Earth's temperature may increase by more than five degrees Celsius by the year 2100.

This would be more than double the two degree Celsius limit set by the United Nations.

Melting of polar ice-caps has already led to a half inch rise in sea levels over the last two decades. In 2012 the Arctic ice is said to have melted at an unprecedented rate.

The Alliance of Small Island States has reportedly said that: 'Time is running out to prevent the loss of entire nations and other calamities in our membership and around the world.'

Oxfam's study indicates that developed countries have largely given loans or recycled existing promises and shown them as contributions to the fast-track funds.

A statement by Oxfam said that levels of public climate finance are set to fall in 2013 compared to the past three years.

A summary of Oxfam's report states that: "developed nations must scale up climate finance from 2013, consider innovative proposals to raise public climate finance, and make pledges to the Green Climate Fund that otherwise will remain an empty shell for the third year in a row."

So where is the glimmer of hope?

A new study by a group called The Regeneration Roadmap shows that consumers are rethinking consumption with sustainability in mind.

The Regeneration Roadmap, is a collaborative thought leadership initiative designed to engage the private sector in advancing sustainable development by improving sustainability strategy, increasing credibility and delivering results at greater speed and scale.

The Regeneration Consumer Study is sponsored by Brown-Forman, Campbell Soup Company, Itau, L'Oréal, Shell and Starbucks.

According to this study two-thirds of consumers in six countries say that "as a society, we need to consume a lot less to improve the environment for future generations".

Sixty five percent of those surveyed also feel "a sense of responsibility to purchase products that are good for the environment and society."

These are the findings of an online survey of 6,224 consumers across Brazil, China, India, Germany, the United Kingdom and the United States conducted in September and October 2012.

Even more significantly, this study indicates that the affinity toward sustainable consumption is being led by consumers in developing markets -- namely Brazil, China and India.

While 51 per cent of consumers in these countries are interested in purchasing products because of environmental or social benefits, only 22 per cent of consumers in Germany, UK and USA showed this interest.


According to this survey, 60 per cent of Indian, Brazilian and Chinese consumers are willing to pay more for sustainable products, as compared to 26 per cent in Germany, UK and USA.


There are, of course, significant barriers to sustainable purchasing for consumers in all markets.
The survey lists that following reasons: perceptions of product performance, high prices, skepticism about product claims and a lack of knowledge about what makes a product socially or environmentally responsible.
"Our economy and natural environment are facing unprecedented stresses as scarce resources are stretched to meet growing needs," said Mark Lee, executive director at SustainAbility, a London based consultancy firm that developed the survey along with GlobeScan and BBMG.
"Through the Regeneration Consumer Study, we are revealing how consumer attitudes, behaviors and collaboration can help enterprising brands as they work to innovate smarter, safer, cleaner and greener solutions."
None of this can quite compensate for the bad news from international climate negotiations.
But it can serve as a reminder that, above all, our behavior as consumers will make or break the fate of our fragile planet.