Mr Modi must now work to win over the governor as a friend and learn to influence people credibly, says Shreekant Sambrani.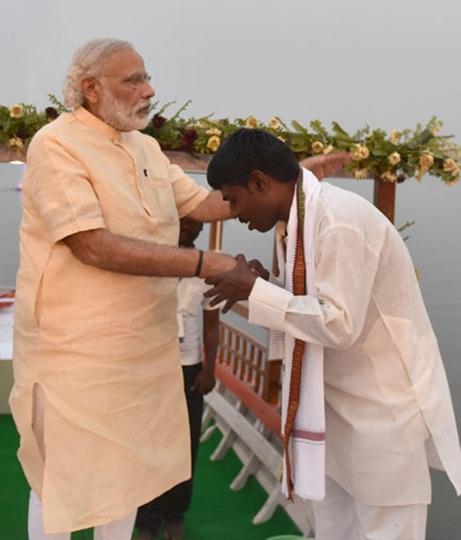 One wishes that someone had sounded the caution heard at many commuter railway stations (which provides the title to this column) to the Modi Sarkar these last few days.

This is not because one wants to rain on the splendid on-going parade celebrating its two years but because there is a real possibility that all the pomp and circumstances of the birthday bash might actually drown out the many real achievements, large and small, into a flood of scepticism, even if the rapidly dwindling tribe of Congress votaries is excluded from the Doubting Thomases.
It is a small mercy that the latest economic growth numbers came out the following week; the triumphal cacophony would have otherwise hit the stratosphere.

But government macro-economic data no longer inspire confidence that they are gold standard.

Abheek Barua suggests that they are more the gold-plated variety (The Economic Times, June 2, 2016).

His surmise that last year's actual growth was closer to four per cent than the 7.6 per cent posted was based on tenuous assumptions and may be ignored, but scholars of unimpeachable reputations have long questioned whether the new series of gross value added numbers replacing the old GDP accurately reflects the ground reality.
I refer to an area I am relatively less ignorant about in support.

The 7.6 per cent growth in 2015-16 includes agriculture growth of 4.5 per cent.

The current wheat crop is expected to be 94 million tonnes, 7.5 million tonnes higher than the year before.

That seems at odds with the severe drought in the north and the northwest for the second year running.

Market arrivals are lower than those at the same time last year.

The trade expects the crop to be around 85 million tonnes.

If this is borne out, it would impact the gross value added by about $1.2 billion (Rs 8,040 crore).

That is small, only about 0.3 per cent of the agriculture GDP or 0.06 per cent of the overall. But it shows how nagging questions arise and remain unanswered.
Using official sowing data, I had calculated that agricultural GDP in the major drought year of 2009 declined by at least three per cent from the previous year (the Central Statistical Organisation estimated a 0.2 per cent decline), which would reduce the growth by 0.5 per cent ("Impact of the 2009 Drought on Agricultural Output: Fantasy or Reality?" Economic and Political Weekly, February 27, 2010).

Large-scale later data revisions continue to cast doubts on official statistics.

Perhaps some misgivings will disappear when the outcome of new series stretched backwards are known later this month.

But until then, the believability of these figures will continue to be under a cloud.
The government, especially the prime minister, has claimed that the direct benefit transfer scheme has helped reduce the subsidy for the cooking gas by Rs 15,000 crore, which is higher than even the potential saving estimated by the chief economic advisor.

The prime minister also said at the India Gate jamboree that the LED lamps distributed under the Ujala scheme will result in a saving of power-generating capacity of 20,000 mW, translating to an investment of Rs 1 lakh crore.

This appears rather fanciful. In the first place, generating capacity is not planned to meet exclusively domestic lighting load.

Leaving that aside, the LED bulbs are of 9 watts, equivalent to 60 watts of an old tungsten filament bulb. Even assuming that every such LED bulb reduces power requirement by 50 watts (the actual number will be lower because many will replace lower rated fluorescent lamps), 400 million LED bulbs will be needed to free 20,000 mW.

This means that every single household will have two such bulbs!
But the government goes one better when it claims that over 110 million bulbs have already been distributed under the one-month old programme.

Schemes including building toilets, distribution of Mudra Bank loans among others, have been claimed to have achieved similarly dramatic results.

The result of this overkill is a growing sense of scepticism.

I have no hard facts but surely most listeners now switch off when they hear such fabulous figures as the government's achievements.

Suspension of disbelief may be desirable in films, but its very opposite makes governance transparent.
This government needs no reminders that in the Emergency, Indira Gandhi and her coterie, who talked but never listened, started believing their own propaganda, while people increasingly took to rumours and hearsay.

Good, old-fashioned, relatively open-ended, press conferences at regular intervals significantly remedy this problem.

The master communicator Mr Modi was expected to follow this. But his frequent public rallies are in the permanent combative electioneering mode and his relatively gentle radio chats have now lost the novelty value.

All that happens now is passive, one-way communication.
Reserve Bank of India Governor Raghuram Rajan's remark that India was the one-eyed king in the realm of the blind showed not just refreshing, self-deprecating wit, but embodied candour even as it acknowledged the reasonable successes India has enjoyed.

That one quip sent his credibility graph zooming.

Mr Modi must now work to win over the governor as a friend and learn to influence people credibly.
The writer taught at Indian Institute of Management, Ahmedabad, and helped set up Institute of Rural Management, Anand.