Narendra Modi is no reformist, but here's how he could yet change the path India's economy is on - and be re-elected in the bargain, notes Mihir S Sharma.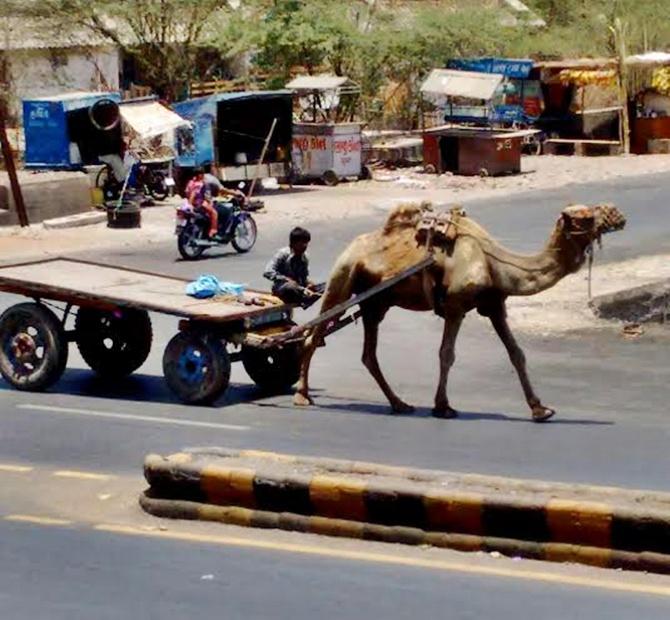 Now that all the first-anniversary analysis is in, one thing is clear: his supporters and his critics alike doubt that Prime Minister Narendra Modi will do what he was expected to do and undertake a genuine, far-reaching structural transformation of India's economy.
It is possible to disagree about the scale, usefulness and necessity of Mr Modi's chosen incrementalism. Some say that the new government's many positive moves are enough; others believe it can do no more.

However, the most pervasive fear - and one that is justified by history and economic theory - is that the absence of administrative reform, and of free markets for labour, land and capital, will serve as a sufficient roadblock to the manufacturing revival that "Make in India" implies.

Without that revival there's no chance of getting anywhere near the 13 million jobs a year that Mr Modi needs to create; and unless he creates those jobs, surely Mr Modi will struggle in 2019 to repeat his sweep of the North.
There is no point in wasting further time on recriminations about why Mr Modi was misjudged. We will just have to wait a little longer for the new India he promised.

However, there are two dangers: first, that his government's failure to live up to expectations will increase the incentive to indulge in dangerous majoritarianism; and second, that five years will be largely wasted in enthusiastic but largely unfocused effort.

This young, desperate country can ill afford the time.
Fortunately, there is at least one thing that he can do - an economic project that can at least claim to be close to a second-best option, if we are not to be given the best.

It must be something that fits in with Mr Modi's instincts, assumptions and style; that is achievable with the resources and political capital he has at the moment; that will make a significant difference to India's economic trajectory; and, last but surely not least in Mr Modi's eyes, it must add to his stature and help him hold on to at least some of his gains in the North in 2019.
Here's an endeavour that satisfies all these criteria - what I, thus, suggest as Mr Modi's project: the creation of a single, unified market, with modern and harmonised rules and regulations, welcoming to workers and capital, in the strip from Gurgaon to Mumbai.

The core of this effort, of course, can be the special economic zones for which the prime minister has invited in investment from Japan and China. The backbone can be the Delhi-Mumbai Industrial Corridor (DMIC) and the associated Dedicated Freight Corridor (DFC).
And the goals should be simple. First, a promise to entrepreneurs: that any individual should be able to set up a business in any one of the states covered by the corridor - Rajasthan, Gujarat, Maharashtra, Haryana - with the same paperwork; and a business should be able to expand from one state to another with no extra paperwork.

Second, a promise to producers: that goods will be able to move, on water, road or rail, from any part of the corridor, to a port in less than 48 hours; and that they will be out of the port and on the trackless ocean in less than 24 hours thereafter.

And finally, a promise to workers across the country: that if they seek and find a job in one of the new "clusters" along the DMIC, they will have access to decent and affordable healthcare; to decent and affordable housing; and to an absence of discrimination, as well as the enforcement of law and order, in their neighbourhood and workplace.
Note the advantages of this ambition: first, it is legally manageable. This does not require any vast re-working of law or statute, or the revision of central regulations along economic principles that the prime minister and his deputies apparently have neither the time nor the patience to internalise.

It merely requires the harmonisation and simplification of existing regulations, carried out by four of the most competent state bureaucracies in the country.
Second, it is politically manageable. All four states are ruled by the Bharatiya Janata Party (BJP), and at least three of the chief ministers in questions owe their office to Mr Modi. Given that this is their collective and individual interest, Mr Modi should, thus, be able to overcome any individual hesitation or inertia.
Third, the timeline is manageable. The preparations for scaling up manufacturing along this corridor following the DFC's launch have long been in the works. Mr Modi can run the last leg with the flourish for which he is justly celebrated. (He has had much practice at that.)
Fourth, it is administratively manageable. Mr Modi's strengths as a politician are project management and overseeing a mutually beneficial interface with business.

Working on specific new cities and manufacturing clusters, a clearly defined corridor and specific ports plays to those strengths.

Rather than ensuring that capital is available to stressed sectors as a whole, the problem for the government will reduce to the more controllable (and familiar, to Mr Modi) question of how to get capital and permissions to specific projects and partners.
If energy is focused on this goal, then in not more than two years, at least sections of the "Saffron Corridor" - as the BJP's propagandists will no doubt dub it - will have begun operation.

Access to markets and ports, and islands of decent infrastructure in the new "city" clusters along the DMIC, should induce at least some flagship factories to come up. Capital could flow from abroad into the special economic zones that Mr Modi has promised, with a few big photogenic investments.

And three years is enough to develop a few showcase dormitory communities around these manufacturing clusters.
Is this what Mr Modi should really be doing? Of course not. First of all, our experience with special zones of various kinds has been terrible.

Second, a prime minister is more than a super-chief minister; a prime minister should be putting in place a policy framework that would allow individual entrepreneurs, manufacturers and traders all across the country to scale up their markets - and their ambitions.

But, as Mr Modi's many unfortunate compromises - most obviously on tax administration reform and on the goods and services tax - indicate, that's not going to happen. We finally have a leader with the power to reform nationwide, but he doesn't have the intent. So let us at least hope for a demonstration of the power of reform.
And that we might get. Consider the demonstration benefits: the boost that the four states' gross domestic products would get would cause other states - Madhya Pradesh and Punjab? - to want to join in, and adopt similarly harmonised and simplified rules, regulations and licences.

The presence of new factories, new planned urban clusters will help push our existing towns into shaping up. Dozens of new jobs-creating companies and factories would be set up.
And the political benefits for Mr Modi will be considerable. He will not be able to change eastern Uttar Pradesh by 2019 anywhere close to the amount that many of his voters expected.

But, instead, he could help many of those voters move with dignity to find the futures they demand.

And if he can ensure that a significant number of those from marginal constituencies have access to the benefits of the Saffron Corridor, the young and hopeful in those parts might vote for him again, in gratitude and in renewed expectation.