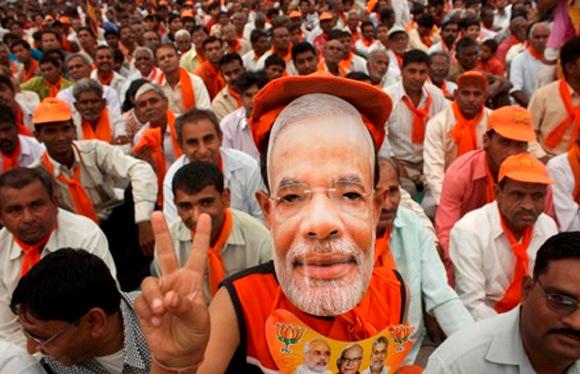 Narendra Modi's bold leadership, at the WTO and in the neighbourhood, says, loudly: 'Take India seriously', points out Ron Somers.
Savvy investors should discount naysayers who have blasted India for its recent stand in favour of food stockpiling, a move which delays by another few months a Trade Facilitation Agreement which has been in the making for the past 19 years.

After all, what's a few more months of patience, when so many years have already passed? Astute observers are listening to and hearing the new Modi government, and are impressed by the rising confidence of the leadership.
India has reached out to Prime Minister Shinzo Abe in Japan, sending a strong signal to China to 'cool it', to dispense with Chinese hegemony in the region. A new confidence is alive and well in South Asia. The prime minister made a special effort to invite Saarc neighbours to his inauguration. Present among these were representatives of the former government of Tibet and from Taiwan - another retort to China.

At the BRICS summit recently, Prime Minister Modi insisted on a lead role for India on the new bank - and got it. Bhutan was his first foreign visit, not by mistake, but by design: Arunachal Pradesh, Bhutan's neighbour, is where Chinese incursions across India's border continue even to this day, ever since the 1962 Chinese invasion of India.

And, this week, the PM enjoyed a wildly successful visit to Nepal, the buffer Himalayan nation that separates the two billion-person economies of China and India, and encouraged what? Constitutional democracy. Bravo!

Remember, it was India that maintained a presence in Myanmar for all these years even as the United States railed at Indian policy. India rightly understood that if India exited Myanmar, the Chinese would fill the vacuum. Those in the know realise what the new Indian government is doing - it is consolidating regional influence in a very tough neighbourhood - influence derived from freedom and democracy, not from Communist Party rule. Leaders of the free world should be applauding the Indian PM.
Instead, so-called Indophiles crib about a 'lacklustre budget' or about 'drug pricing' or about Narendra Modi's clear-headed stand on the WTO Trade Facilitation Agreement. These issues will all be worked out. For those who are listening closely, what Mr Modi is saying is: 'Take India seriously.'
Business leaders who have risen to the top claim to have done so by listening carefully, astutely hearing those around them.
Listen to the loud actions of this prime minister: When he says he needs to create jobs for India's 600 million-strong youth demographic, think of incorporating India into your global supply chain as an able, world-class manufacturer.
When this PM says infrastructure must be a major priority of his government, ask Ford, or Dupont, or MeadWestvaco, or International Paper, or Bechtel, or Fluor, or Corning, how they earlier succeeded in building major plants in Gujarat and Maharashtra, and how these lessons can now be applied all across India as a country.
When shouts arise about pricing that cannot be afforded by the middleclass, let alone by the 600 million population who live on less than $2 a day, begin thinking of aggressive and creative pricing strategies.
When we see this PM not in words but in actions bravely sending a forceful signal to the Chinese, think about greater transfers of defence technology to a freedom-inspired India.
And when Mr Modi says his No 1 priority must be to provide fair pricing for products grown by Indian farmers, considering 70 per cent of the voting electorate live in rural India, then know that he will support trade facilitation - but only once developed countries take seriously India's need to reformulate food stockpiling, the standards for which were set by the WTO as long back as 1988.
The Indian government knows deep down in its bones that trade and technology are vital to India's successful future. India's rise as an information technology powerhouse confirms this. Every Indian citizen has witnessed how technology has positively transformed their lives.
To obtain technology, India knows that it must create a conducive environment that not only rewards but protects innovation and intellectual property. India is fast-moving up the value chain of discovery - across many sectors: in agriculture, in green technology, in energy, in space (where ISRO is on its way to Mars), and especially in health care and life sciences.
Few know that more than 70 per cent of all active ingredients for pharmaceuticals made and sold in America are sourced from India. As much as 30 per cent of all generic medicines sold in the United States are made in India - a fact all should be proud of.
As every country struggles to expand healthcare access to countless millions, costs are simply overwhelming government budgets. India's high-quality, low-cost generic industry has stepped-up to be part of the solution.

Large population countries like India, and aging population countries like the United States, must work together as partners to tackle healthcare access and healthcare costs head-on. PEPFAR, the signature humanitarian success of the George W Bush Administration, which is saving countless millions from the scourge of HIV/AIDS in Africa, would not have been conceivable without Indian generic medicines.

For the sake of all humanity, the United States and India must join forces to capitalise on ourshared values to expand access for all mankind to affordable, low-cost, safe, high-quality healthcare.
As our economies become more intertwined by technology, demand for high-skilled talent continues to exceed supply. Those who possess training in science, technology, engineering, and mathematics are in demand. India is rich with such talent. America has a deficit of it.
The call today from atop every hill across our great lands should be: Deliver us maths students, engineers, scientists, and technologists! Surely, as the United States reviews and reforms its immigration policies - a process already begun - a once-in-a-lifetime opportunity is emerging for both our countries to connect talent with need, celebrating our common devotion to education, shoring-up a creative ecosystem that will spur innovation for both our economies for decades to come.
Silicon Valley can be replicated, but this will only be achieved so long as fresh talent is welcomed by both our countries - a move that will surely spark a billion ideas and discoveries.
Make no mistake, India is on the move - driven by a young electorate which insists on precisely such confident governance as being exemplified by India's new prime minister, but which also embraces the very tenets of freedom and a free-market and entrepreneurial democracy that we embrace here in the United States.
India and the United States are logical partners. To get this right, we need to be respectful, heed subtle signals and listen carefully to one another.
Every effort should be made by the United States and our dynamic private sector to hear what India is saying, and to enlist India into helping solve not only its challenges, but ours here in the United States as well, including the many global challenges we share: Russia's aggression, Iranian nuclear designs, Syrian use of chemical weapons, the Talibanisation of Afghanistan, Hamas' tactics in Gaza, terrorism and need for greater regional security, Myanmar, Sri Lanka, China, climate change, and the urgent requirement to revive the global economy, to name just a few.
India and the United States are best friends. Sometimes we forget this because we fail to respectfully listen to one another and hear what the other is saying.
The writer is the founder-CEO of India First Group.