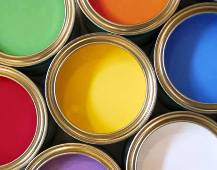 Kerala has emerged as the number one market for exterior emulsion paint companies like Asian Paints, Nerolac, Dulux and Jotun.
Market leader Asian Paints, for instance, is estimated to get about Rs 400-crore (Rs 4-billion) worth of business from the state alone.
Kerala contributes to about 8-10 per cent of the company's top line, according to analysts. The company, though, did not confirm this.
For Nerolac Paints, too, the Kerala market is important, since consumers there prefer an array of colours. "The use of vibrant and more pronounced colours is very popular in the south and so, test marketing for any new colour becomes almost imperative in this state," says Sukhpreet Singh, general manager, marketing.
The decorative paints market in Kerala alone is about Rs 850 crore (Rs 8.5 billion) and growing at 40 per cent a year, the highest in India. The exterior emulsion market here is most competitive.
Asian Paints has just 40-45 per cent market share, as compared to a 60-70 per cent share in every other state.
"The acceptance in the Kerala market is very high. With all the money coming in from West Asia as well, there is more spending power with people in the region", says Lopesh Dalal, marketing head, Jotun Paints, which currently has a market share of about 4 per cent in Kerala and hopes to capture about 7 per cent in two more years.
Emulsion companies are also witnessing a new trend, which is the customisation of paints for roof tiles, designed especially for the Kerala market.
"The houses in Kerala have slanting roofs due to the excessive monsoons. So, roof tiles are a huge business," says Hemant Somani, general manager, marketing, Dulux Paints.
Analysts believe this phenomenon will continue for a long time. "A number of factors contribute to the Kerala success story. Test marketing for paint companies in this state is a smart move, as weather and acceptability are both tested to their highest here," explains a senior analyst.