Firm to prune domestic costs through initiatives such as voluntary separation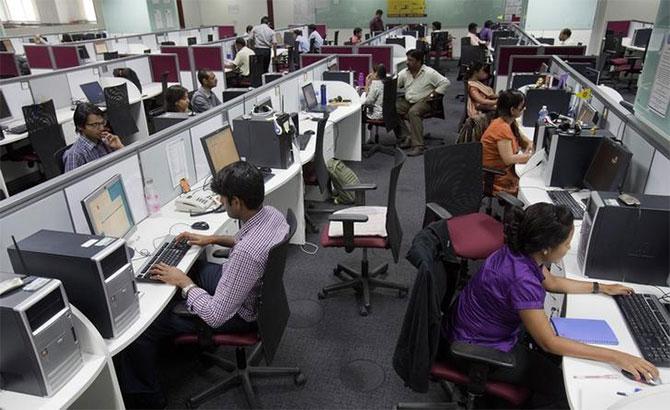 Cognizant Technology Solutions plans to sharply increase local hiring in the US this year with increased demand for co-innovation and on-site presence from clients.
The Nasdaq-listed technology services major said it would look at talent across local community colleges to big management universities to man different projects in the US.
Last month, when the United States Citizenship and Immigration Services opened the window for applications, Cognizant applied for "less than half" H1B visas compared with last year.
"We are evolving our workforce and delivery in the United States. Cognizant hired 4,000 US citizens in 2016, and in 2017 and beyond, we expect to significantly ramp up our US based workforce by hiring experienced professionals in the open market and by making more use of university programmes.
We are shifting our workforce largely in response to clients' increasing need for co-innovation. But we still seek visas for highly-specialised and skilled talent...We expect to further reduce our need for these visas going forward. As part of our shift, we continue to expand our US delivery centres," Rajeev Mehta, president, Cognizant told analysts recently.
At the same time, the company has taken up initiatives such as the voluntary separation package, which was announced last week, for senior employees to optimise costs.
"We are looking for opportunities to further optimise cost structures...We just launched earlier this week a voluntary separation package that programme will go till the end of Q2 and we will see the benefit of that in Q3," said Karen McLoughlin, chief financial officer, Cognizant.
The company is the second software provider after Infosys to announce increase in local hiring in the US. Cognizant, however, has not disclosed any numbers. Beyond the business shift towards digital, Donald Trump-led US administration's moves towards H1B visa restrictions have resulted in companies focusing on local hiring there.
Cognizant saw a 26 per cent growth in net profits to $557 million for the quarter ending March 31, 2017, while revenues grew by 10.7 per cent to $3.55 billion.
During the year-ago period, the company posted net profit of $441 million on revenues of $3.2 billion.
The company has declared its first quarterly cash dividend of $0.15 per share, after it has agreed with activist investor Elliott Management to issue dividend and announced share purchase programme in order to the benefit of the investors.
Cognizant's quarterly growth comes at a time when its peers in India have been impacted. For instance Infosys reported muted sequential growth for the quarter while Wipro and TCS posted 1.7 per cent growth in revenues. Cognizant's sequential growth was 2.4 per cent.
"We delivered solid results in the first quarter and continued to build our digital solutions portfolio, expand our skills, and enhance our engagement with clients," said Francisco D'Souza, chief executive officer of Cognizant.
He added, the company is making good progress in accelerating Cognizant's shift to digital services and solutions to create value for clients and shareholders, positioning the company well to achieve both the revenue and margin targets for this year.
The company has reaffirmed revenue guidance of 8-10 per cent growth for FY2017. Full year 2017 revenue expected to be in the range of $14.56 billion to $14.84 billion.
For the quarter ending June, 2017, the company has said that its revenue is expected to be in the range of $3.63 billion to $3.68 billion.
Dividend, realignment and recruitment
The company has declared initial quarterly cash dividend of $0.15 per share. The management said that it is making strong progress executing on all elements of the Company's plan. The digital revenues continue to grow well above company average.
"Overall, our digital-related revenues are growing well above company average. We continue to pursue tuck-in acquisitions to expand our intellectual capital, domain expertise, global reach, and our platform and technology capabilities. Of course, we maintain our focus on strategic clients across our core industries," said D'Souza.
This year, company aims to develop more than 10,000 engineers and architects, plus another 10,000 across niche areas of artificial intelligence, the internet of things, and cognitive computing.
Given the tens of thousands of employees already skilled in these areas, the company expect to have about one hundred thousand employees by the end of this year with a depth of knowledge and skills that will enable them to pursue the most specialised areas of digital, said D'Souza.
In March, the Company launched a $1.5 billion Accelerated Share Repurchase (ASR) programme with certain financial institutions under our existing stock repurchase authorisation. The ASR periods are scheduled to end during or prior to the third quarter of 2017.
As part of the realignment, the company is planning to improve utilisation, optimise its pyramid structure and talent supply chain management to better align resourcing with client demand, simplify its business unit overhead structure and leverage its corporate function spend more effectively.
The company ended the quarter with approximately 261,200 employees globally. Annualised attrition of 14.7 per cent during the quarter-including BPO and trainees-was roughly in line with the year ago period.
Photograph: Vivek Prakash/Reuters