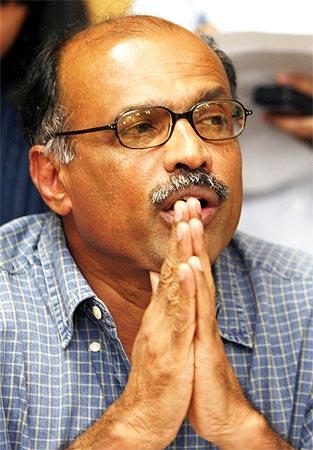 Coffee Day Holdings, fresh from raising Rs 1,200 crore (Rs 12 billion) from global blue-chip private equity investors, is concluding a move to acquire a luxury resort in the Andaman Islands, partly owned by G R Gopinath, the low-cost aviation pioneer.
The resort, Barefoot, in which Gopinath owns close to 35 per cent, is spread over seven acres 'in exotic locale' and has 18 villas.
Along with Gopinath, a group of London-based Indian investors hold 38 per cent and the rest is owned by the people who manage the resort on the ground.
According to industry information, this consortium of investors along with Gopinath own nearly 60 acres in the Andamans and have so far developed seven acres for the resort.
The enterprise value of the land holdings is expected to be close to Rs 80 crore (Rs 800 million).
It is not yet clear whether Coffee Day Holdings is acquiring the entire land parcel or the part which has been developed. If it settles for the developed part, it may have to pay close to Rs 20 crore (Rs 200 million).
Gopinath and Coffee Day Holdings did not reply to questions on this development.
Coffee Day Holdings currently has premium luxury resorts at Chikmagalur, Kabini and Bandipur, all in Karnataka.
While Chikmagalur was a new project, Coffee Day acquired Cicada Resorts at Kabini and Bandipur from Wipro's Azim Premji, an investor in these.
Their two-year-old hospitality business, according to sector information, is on an overdrive and is understood to be looking at dotting at least 10 locations in the near future, including one in Kerala.
Expansion plans
Coffee Day Holdings is a Bengaluru-based company with interests in coffee plantations, coffee retailing, infrastructure development and technology investments.
It recently raised Rs 1,200 crore (Rs 12 billion) from StanChart Private Equity, KKR and New Silk Route.
While New Silk Route invested $75 million, KKR and Standard Chartered PE invested $75 million and $50 million, respectively.
According to industry information, the three PE firms will together hold about 25 per cent stake in the company, valuing the latter at $800 million.
The proceeds will be partly used to expand its coffee retailing business. It currently has a little over 900 coffee bars in the country and aims to reach up to 1,000 by the end of this year. It is also planning to open outlets in Europe, West Asia and Southeast Asia.
Coffee Day is looking to invest Rs 1,700 crore (Rs 17 billion) in three to four years to expand the business.
The group intends to invest Rs 200 crore (Rs 2 billion) in plantations, Rs 700 crore (Rs 7 billion) in the retailing business and another Rs 750 crore (Rs 7.5 billion) in infrastructure developments and special economic zones.
Image: G R Gopinath | Photograph: Reuters