The impact of the parting of ways between Geneva-based World Economic Forum and its partner for 27 years, CII was felt on the ground on Wednesday when president of the industry chamber Adi Godrej was prevented from entering a discussion hall at the Indian edition of WEF.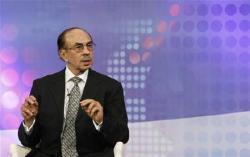 Godrej, who had heated exchange of words with security guards and World Economic Forum (WEF) officials, was allowed to enter the hall only after he protested.
"This has never happened in WEF earlier. They are not letting people in. They are very rude. They allowed me only after fighting and telling my name," he said.
When contacted for comments over the incident, WEF associate director Oliver Cann said: "The hall was full and there was no seat empty. Moreover,
the session was televised live at the lounges."
Other delegates, including renowned industrialist Prakash Hinduja, found it difficult to pass through the security guards, who also prevented media from speaking to participants on the sidelines.
WEF associate director Desirée Mohindra defended the tight vigil on delegates saying: "We are doing this because we don't want big rush outside."
She further said security was provided to the delegates as they had asked for it.
"We provide our volunteers to delegates and speakers because many times they have asked for it," Mohindra said.
This is the first time that WEF is organising the India summit on its own.
CII director general G Chandrajit Banerjee said: "This time CII has not joined hands with WEF because they wanted to do this in India as they do in other countries like China."