The RBI Governor said industry should take more risks, as a lot of regulatory and administrative processes had been eased.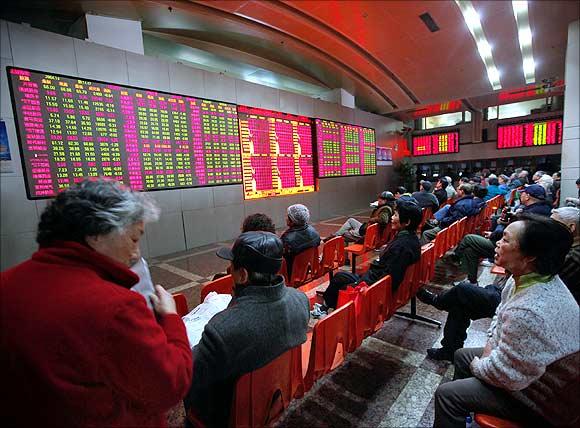 Reserve Bank of India Governor Raghuram Rajan on Tuesday said a slowdown in China wasn't necessarily good news for India, as it would lead to global demand being squeezed further.
"No country's adversity in this inter-connected world can be an unmitigated blessing for us.
"So, I don't think China slowing down is necessarily good news for us," he said in an interview to television channel India Today TV.
He, however, added a further slowdown in China would have a silver lining in that it might lead to more foreign investment into India.
"But in general, in a global environment of weak demand, one major economy slowing further and providing even less demand is not good news for anybody," he said.
Rajan said that there were some 'green shoots' in the economy, with greater public investment in road infrastructure and a pick-up in consumption.
"But the key missing factor in stronger and sustainable growth is private investment has not picked up," he added.
The reason for this, he said, was the external environment was still weak.
"We essentially export and import goods and services north of 50 per cent of gross domestic product and, therefore, a weak global environment means a number of industries are being affected because there is not enough global demand for their products."
He said industry should take more risks, as a lot of regulatory and administrative processes had been eased.
"One of the things we have to be careful about is suddenly demanding a Scandinavia-like business environment in India overnight. That is not going to happen. . . or a US-style business environment. And, our industrialists have invested in much tougher environments than we have today.
Last week, the RBI governor had cut the repo rate by 50 basis points to boost consumption and economic activity.
In the interview, Rajan re-iterated he didn't expect retail inflation to rise to more than six per cent by January.
He also said the government had taken a number of steps to mitigate the effects of a poor monsoon and these might ensure food prices didn't soar again.
Rajan also spoke on fringe elements in India and how these could hit the country's image among investors abroad.
"I think there are always issues on the fringe.
"The finance minister said clearly that these tend to distract, rather than contribute. They are certainly worrisome features which have to be dealt with on the basis of law.
"The emphasis that the prime minister and the finance minister have been putting on this being an economy that is trying to get it right and move forward in a sustainable manner, I think that doesn't sit well with these kinds of incidents."
He said he had a very strong relationship with finance minister Arun Jaitley, adding the media had overplayed reports of tension between North Block and Mint Road.
"My relationship with the finance minister has been of the highest order since he moved into office. It has been great.
These reports of differences tend to exaggerate and, sometimes, over-complicate what is essentially a very strong relationship," he said.
Asked if he would be open to an extension to his tenure as RBI governor, which ends in September next year, he said that bridge would be crossed when he came to it.
Image: People look at an electronic board at a brokerage house in Shanghai. Photograph: Aly Song/Reuters