At present, 4,000 electric multiple unit (EMU) trains are operated daily on China's HSR network, accounting for 63 per cent of the total passenger trains operated daily in the nation.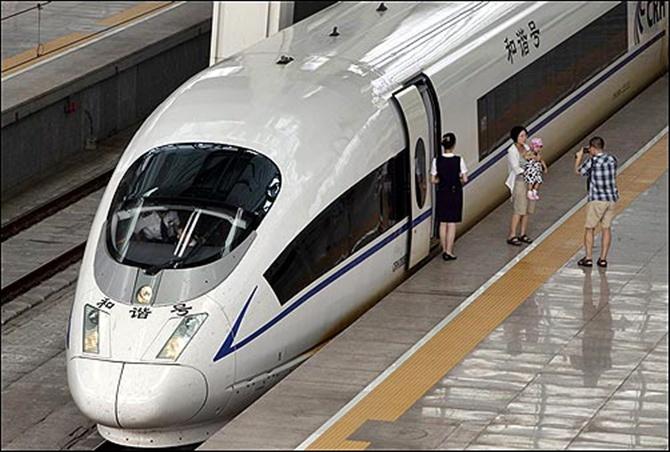 China, which has the longest high-speed railway network in the world at over 19,000 km, plans to increase it to 30,000 km by 2020, a top official has said.
"By the end of 2015, the length of high-speed railway (HSR) lines in operation in China exceeded 19,000 km with nearly 10,000 km under construction, making the country top of the world in terms of length of high-speed railways both in operation and under construction," Zhao Guotang, vice general engineer, of the China Railway Corporation said.
"The operative mileage of HSR in China has taken 60 per cent of total amount in the world. During the decade from 2005-2015, the total mileage of HSR lines constructed in other parts of the world was no more than 4,500 km, so we can see most prosperous development of HSR lines is in China," he told visiting journalists from India and some ASEAN nations at the China Railways headquarters.
He highlighted that the fast development of high speed railways in China is changing the Chinese people's traveling habits.
At present, Zhao said, 4,000 electric multiple unit (EMU) trains are operated daily on China's HSR network, accounting for 63 per cent of the total passenger trains operated daily in the nation.
Based on the concept of "zero-distance transfer", high-speed railway stations are closely integrated with urban public transport systems or even airports through considerate and rational arrangement of stations and depots to develop modern passenger transport hubs and transfer centres where passengers can quickly transfer to subways, public buses or other vehicles, he said.
Asked what is the main advantage or strength of China's HSR, Zhao said, "I should say that outstanding strength is that we have abundant resources of 19,000 km which will be increased to 30,000 km in year 2020."
"Specifically speaking, in the construction and operation of this 19,000 km of HSR, we have accumulated advanced technologies and equipment, we have gained rich management experience, this is the most outstanding strength of China's HSR," he said.
"The second feature of our development is high quality. We have upgraded and improved our railway network. In terms of passenger transport, our operational speed runs first in the world," Zhao added.
At present, the backbone of China's high-speed railway network consists of "Four East-West Railways and Four North-South Railways" and high-speed railways have been weaved into a network covering China's three city clusters – the Yangtze River Delta, the Pearl River Delta and the Pan-Bohai Region, facilitating passengers' travel, he said.
In 2015, China's railway passenger volume increased by 1.18 billion passengers or 86.8 per cent compared with that in 2007.
The proportion of passengers carried by EMU trains to all railway passengers increased from 4.5 per cent in 2007 to 45.8 per cent and the maximum volume of passengers carried by EMU trains in a single day has reached 4.81 million.
Talking about engineering construction technologies, Zhao said, "China's high-speed railways are adaptable to different environments and transport needs. We have constructed HSR lines in different regions around the country with different natural climatic conditions."
"For example, in northeast China, the temperature is rather low, in northwest China there are large desert areas, in southwest China there is hilly terrain and in Hainan province the temperature and humidity are quite high. So, we have used highly advanced machinery and information technologies to ensure high quality and efficiency of our construction," he said.
Passengers can find trains operated at two different grades of speed with seats divided into first-class, second class and business class, or even with sleeping cars suitable for long distance journey, Zhao said.
"Another aspect is our management technologies, we have formed comprehensive management system consisting of core process consisting of planning, design, operation to personnel management, which is scientific and advanced," he said.
About safety aspect of HSR, Zhou said, "our high-speed rail is safe and reliable...We also have a comprehensive safety inspection train and this train runs along the tracks every ten days for inspection of tracks and equipment."
"We have full set of technologies and equipment to guarantee safe operations," he stressed.
"Practice is most important. Since opening of first HSR line 2008, we have nearly eight years of experience of running HSR. The total operating mileage of our high-speed trains has exceed three billion km during this 7-8 years. So, this is incomparable with any other country. After long running and test, we have proved to be the most safest operator in the world," he added.
The journalists also visited the traffic control centre at the China Railway headquarters at Beijing.
They were also informed that the Beijing South Railway Station here each day handles 180 pair of trains including many high-speed ones to various destinations, with waiting hall area of the ultra modern station having a capacity to accommodate nearly 20,000 passengers.
"180 pairs of trains run from this station, but in peak time this number increases to 207 pairs per day. The capacity per day reaches to 1,35,000 seats. But in peak days, especially during weekends, we can provide 156,000 to 181,000 seats," W Yang, deputy director, station's passenger department said.
© Copyright 2020 PTI. All rights reserved. Republication or redistribution of PTI content, including by framing or similar means, is expressly prohibited without the prior written consent.