Shanghai stocks dropped 4 per cent to below the 200-day moving average for the first time since July 2014.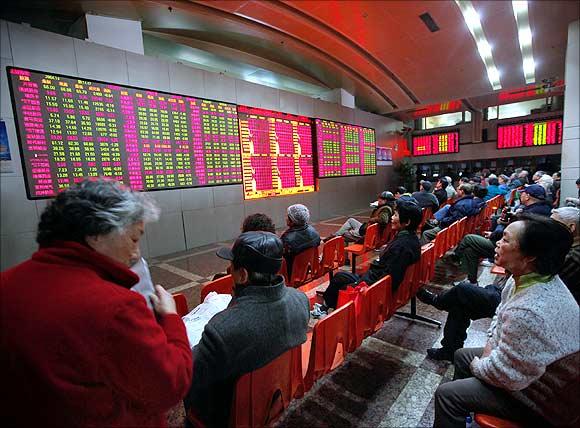 Stock markets tumbled on Friday after a survey showed Chinese factories contracted at their fastest pace since the depth of the global financial crisis in 2009, sending investors scurrying to the safety of bonds and gold.
Emerging market assets took a hammering, and oil prices were on track for their longest losing streak since 1986, as fears of a China-led deceleration in global growth gripped markets.
European markets are set to follow suit, with financial spreadbetter IG expecting Britain's FTSE 100 to open 144 points lower, or down 2.2 per cent, Germany's DAX to open 325 points lower, or down 3.1 per cent, and France's CAC 40 to open 121 points lower, or down 2.5 per cent.
MSCI's broadest index of Asia-Pacific shares outside Japan fell 2.4 per cent to its lowest since July 27, 2012, for a weekly loss of 6.1 per cent.
Shanghai stocks dropped 4 per cent to below the 200-day moving average for the first time since July 2014.
That brought losses for the week to 11 per cent.
The Hang Seng index in Hong Kong was down 2.4 per cent for a weekly loss of 7.4 per cent.
Markets in countries whose economic fortunes were closely linked to China's growth tumbled.
Japan's Nikkei declined 2.9 per cent, for a weekly loss of 5.2 per cent.
South Korea's Kospi shed 1.6 per cent, and was 4 per cent lower for the week.
The S&P 500 and the Dow Jones index slumped below their 200 day averages overnight.
The mood in markets, already soured by the weakness on Wall Street, darkened further on the grim reading of China's factory activity.
The Caixin/Markit manufacturing index showed activity in China's factory sector shrank at its fastest pace in almost 6 1/2 years in August as domestic and export demand dwindled.
That decline, coming on the heels of weaker-than-expected data in July, stoked fears of a slowdown in the world's second-biggest economy.
"Markets are pricing in the worst right now," said Herald Van Der Linde, head of Asian equity strategy at HSBC.
The MSCI emerging markets index slid 1.7 per cent to the lowest since August 19, 2009.
US stock futures fell almost 0.5 per cent to a six-month low in Asian trade after the Chinese PMI was released.
The Australian dollar, considered a liquid proxy for China demand, slid to $0.7285 at one point and was last trading at $0.7304, down 0.5 per cent for the day.
The market ructions sent gold up to its highest level in more than a month.
Safe-haven US Treasury yields also slipped further.
They were already feeling a downward pull after minutes from the Federal Reserve's July meeting offered little clue of a near-term rate hike, denting expectations of a tightening in September.
"The US markets have held up well of late, being viewed as somewhat of a safe-haven," wrote Chris Weston, chief market strategist at IG in Melbourne.
"This view seems to have deteriorated somewhat with the S&P 500 closing below its multi-month trading range -- a fate the credit markets and the US yield curve have been screaming for some time."
Lower Treasury yields in turn weighed on the dollar.
The currency traded at 122.82 yen, the lowest in more than five weeks, after sinking from an overnight high of 124.16.
The euro hovered near a two-month high at $1.1290 after surging 1.1 per cent on Thursday.
In commodities, crude oil resumed its downward trend.
US crude was headed for its eight straight weekly decline, slipping 0.5 per cent to $40.85 after touching a multi-year low of $40.21 on Thursday.
Image: People look at an electronic board at a brokerage house in Shanghai. Photograph: Aly Song/Reuters