With a loan book of $268 billion, India's retail banking is now ahead of Russia, Malaysia and Mexico but behind China, Brazil and Thailand.
Illustration: Uttam Ghosh/Rediff.com.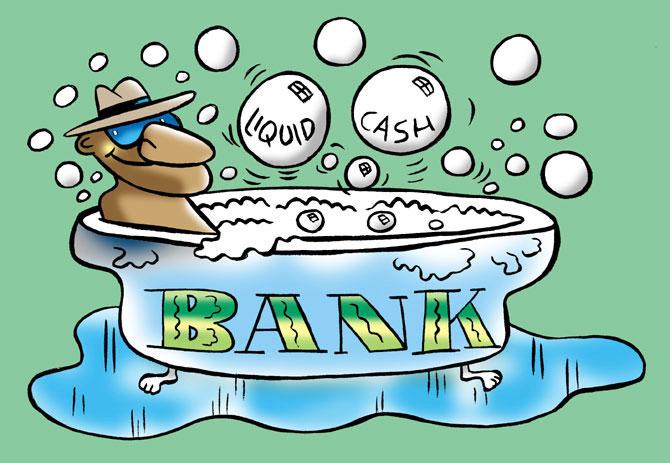 A boom in credit-fuelled consumption has made India's retail banking one of the biggest among emerging markets outside of China.
Going by banks' retail loans outstanding, worth $269 billion at the end of September 2017 quarter, India's retail banking is now bigger than Russia's ($248 billion), Malaysia's ($211.3 billion) and Mexico's ($190 billion).
However, Brazil ($439.4 billion) and Thailand ($310 billion) remain ahead of India, according to data from Bank for International Settlement (BIS).
China, however, leads the pack with total retail banking assets worth $5.8 trillion at the end of September 2017 quarter.
The numbers for all countries are in US dollars, based on exchange rates in respective quarters.
The size of India's retail loan market would cross the $400-billion mark if the loan book of retail non-banking financial companies like Housing Development Finance Corporation, Bajaj Finance, Indiabulls Housing Finance and Shriram Transport Finance were to be included.
India has one the largest NBFC segments among emerging markets with retail NBFCs account for 55 per cent of banks' retail lending in FY17, with a total loan outstanding worth $139 billion at the end of last financial year.
The data are based on loans of listed retail NBFCs.
"The share of NBFCs in total credit extended by banks and NBFCs together increased from 9.5 per cent in March 2008 to 15.5 per cent in March 2017.
"NBFCs' credit intensity -- credit as a percentage of GDP -- has also increased at a steady pace, reaching 8 per cent at the end of March 2017," observed Reserve Bank of India's Trend and Progress Report released in December 2017.
India's retail banking sector is also one of the fastest-growing among emerging market assets, with banks' retail loan book expanding at a compound annual growth rate of 16.1 per cent in dollar terms in the past three years.
During the same period, retail banking assets in overall emerging markets increased at 9.3 per cent CAGR, while it expanded at the annualised rate of 16.9 per cent in China during the period.
Analysts expect retail loans to sustain their growth trend, given their low penetration in India and a growing network of retail banks and NBFCs, "Retail loans are likely to sustain their current pace of growth in the foreseeable future, driven by the income effect of higher government spending and low penetration," says Dhananjay Sinha, head of research, Emkay Global Financial Services.
Total retail credit to households accounted for an equivalent of 11.1 per cent of India's Gross Domestic Product during 12 months ended September 2017, against emerging market average of 34.4 per cent.
In China, retail credit is now equivalent to 48 per cent of GDP, while the ratio is 21.6 per cent in Brazil.
India's retail banks added $43.4 billion worth of assets during the 12 months ended September 2017, the second-highest among emerging markets after China, whose banks' retail assets were up nearly $1.1 trillion during the period.
Russian banks were slightly behind, as their retail loan book increased by $40 billion during the 12 months ended September last year.
The corresponding number in other major emerging markets like Brazil, Thailand and Mexico was $2.1 billion, $22.9 billion and $27.8 billion, respectively.
Analysts, however, see a risk to India's retail banking from the rising loan-to-income ratio and slower-than-expected income growth in India.
"The number for listed companies suggests that income is growing at an annualised rate of 6-7 per cent, while retail loans are growing at 15-20 per cent a year.
"This hints at a rising leverage ratio among households which might not be sustainable for long, unless economy and income pick up," says G Chokkalingam, MD, Equinomics Research & Advisory.