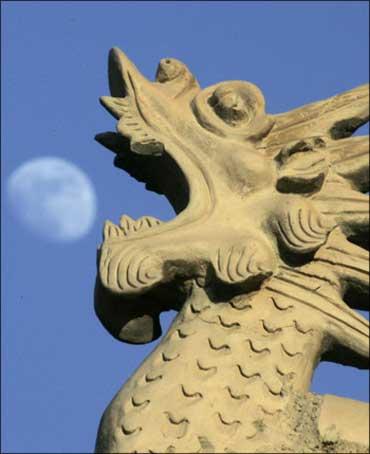 In a significant gesture ahead of the high level Sino-US talks, China has increased its holdings of United States treasury debt by $17.7 billion, consolidating its position as the number one holder of US treasury securities with a total of $895.2 billion.
The US Treasury Department reported on Monday that China's holdings of US Treasury securities rose to $895.2 billion in March from $877.5 billion in February.
The $17.7 billion increase marks the first by the largest US debt holder since September, state run China Daily reported on Wednesday.
This is the first such move in six months by China, which during the past few months sold over $45 billion worth of US Treasury securities, which many said was aimed sending a political signal to US amid fears triggered by the weakening dollar.
After the sale, by far the highest in a decade, China briefly lost the position of the largest overseas holder of US treasury bonds to Japan, which has $768.8 billion, before regaining the slot with the latest acquisition of treasury securities.
For a while, China started buying gold instead. In March, Chinese Prime Minister Wen Jiabao even expressed concern over the safety of China's debt holdings.
"We can not afford to make any mistake when it comes to running our financial assets. Here I would like to stress that US treasury bonds are guaranteed by the United States. I hope that the US takes concrete step to reassure investors," he said.
Analysts attributed China's decision to revert back to dollar holdings to an increase China's forex reserves and European financial woes triggered by the Greek sovereign debt crisis.
China's foreign exchange reserves amounted to $2.45 trillion by the end of March, up $47.9 billion from the end of last year.
"The increased reserves need to find a channel for investment," said Zhang Bin, an economist at the  Institute of World Economics and Politics at the Chinese Academy of Social Sciences (CASS).
Significantly, the moves comes ahead of the commencement of the key US-China strategic and economic dialogue from May 24.
The dialogue is to be attended by US Secretary of State Hillary Clinton and Treasury Secretary Timothy Geithner. It is expected to cover a host of issues, especially the United States' demand to increase the value of the Chinese currency, the yuan, against the dollar.
The stronger dollar was also stated to be another reason that prompted China to increase its investments in US treasury bonds.
The euro has stayed weak against the greenback after the Greek crisis unfolded.
On Monday, the euro hit a four-year low of $1.2234 before recovering slightly on Tuesday.
"The dollar is relatively safe for investors," Zhang said, adding that despite a nearly $1 trillion bailout plan by European countries and the International Monetary Fund, investors have remained sceptical about the continent's economic prospects.
"Risks persist (in Europe), with governments implementing measures in the face of large deficits and swelling debts," said a statement by Coface, a leading international credit insurance and credit management services group.
"Greece, Portugal, Spain, and Ireland are likely to suffer from extended recessions (and) western Europe's economic recovery is likely to be subdued", Coface said.
According to US treasury data, China was cutting its holdings of US treasury bonds in the previous several months. Japan was the No 2 foreign holder of US treasury securities by March, increasing its holdings by 2.1 per cent to $784.9 billion.
Britain, the third-biggest holder, was a net buyer, enhancing its holdings to $279 billion from $233.5 billion in February.