Finance Minister P. Chidambaram said on Monday he wanted to remove or relax "outdated" caps on foreign direct investment (FDI) in different sectors, as his government struggles to revive an economy that has posted its weakest growth in a decade.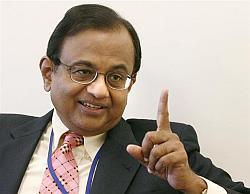 Removing investment barriers, many of which date back to before India started opening up its economy in the early 1990s, has been key to the government's push to restoring investor confidence in Asia's third-largest economy.

Slowing growth, high inflation and a clogged pipeline of big-ticket industrial and infrastructure projects have made businesses unable or unwilling to invest. India, which until recently was celebrating its status as an emerging global powerhouse, has seen growth slide to just 4.5 per cent in the last quarter, far below its 8-9 per cent aspirations.

Prime Minister Manmohan Singh's government last year pushed through landmark reforms allowing foreign supermarket chains and foreign airlines to invest in India, in the teeth of domestic opposition that saw street protests and uproar in parliament.

Chidambaram, a fellow reformer appointed last July, advocated freeing up foreign investment in other sectors to speed up economic growth.

"Many of these caps are outdated. I think across the board many of these caps can be removed or certainly relaxed," Chidambaram told Bloomberg TV India.

Chidmabaram did not elaborate, but the government has previously said it plans to open up the pensions sector to foreign investors, and raise the investment limit in the insurance sector to 49 per cent from 26 per cent.

Both steps need parliament's approval. It has also discussed other reforms such as raising the investment caps in the defence industry, and in the print and electronic media.

Any such reforms are politically sensitive in India, due to fears that domestic companies could lose out and there will be less jobs.

Chidambaram said increasing FDI flows was key to narrowing the current account deficit, which has swelled as the country suffered
a sharp fall in the export of merchandise goods for much of the past fiscal year.
FDI inflows fell 34 per cent to 23 billion in the 2012 calendar year, putting more pressure on the country's current account deficit (CAD), which has hovered around record highs and has worried both policymakers and investors.
Chidambaram also said on Monday that there was a case for the Reserve Bank of India (RBI) to cut interest rates, a day before the bank was due to announce its monetary policy decision. It is expected to cut policy rates by a quarter-percentage point, according to a
Reuters
poll.
"We have argued on the government side that there is a case for lowering policy rates," Chidambaram said, adding the decision was ultimately up to the central bank's governor.
Analysts believe incremental interest rate cuts, while desirable, will have limited effect, as India's already highly-leveraged corporates, saddled with over-capacity, want to see a clear turnaround in demand and more clarity in government policies before making fresh investments.
Removing Bottlenecks


Since taking over as finance minister last year, Chidambaram has stepped up efforts to revive what the prime minister called the "animal spirits" of the Indian economy.
This includes speeding up the implementation of more than 200 industrial and infrastructure projects that have been stalled by a complex system of clearances. The government has set up a special committee aimed at helping firms cut through red tape but it has yet to announce significant progress.
Bottlenecks caused by India's crumbling infrastructure, especially its pot-holed roads, clogged rail network and power shortages, have long handicapped India's chances of achieving the growth rates enjoyed by giant neighbour China.
In a meeting on Monday with state-run banks, many of whom fund such projects, Chidambaram singled out the power and coal sectors as particularly bad.
"We have asked the banks to look at each project and how they can move forward," the minister said, though he detected more confidence in the economy than six months ago.