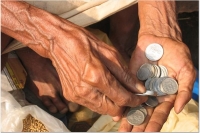 Are you always at a loss while planning your finances? Are you aware of the investment options available in the market?


How best can you plan your finances?
What are the crieria for evaluating an investment option?
Are mutual funds profitable investment options? When and how should one buy mutual funds?
Financial planning expert Sailesh Multani offered some valuable tips during a chat on rediff.com on Thursday. Here is the transcript:
Sailesh says, Hi, goodafternoon and welcome to this chat session
---
ravi asked, how v get >10 % in debt instrument
Sailesh answers,  at 2010-06-24 13:00:12Hi, in today's scenario it is very difficult to earn more than 8% p.a., leave alone in excess of 10%. To earn that kind of return you will have to invest a small portion of your portfolio into equities that have the potential to deliver higher returns but with higher risk. If you are low risk taking investor then you can consider investing in Monthly Income Plans (MIPs) offered by most mutual funds. MIPs typically invest 80% of their portfolio in debt securities and the balance 20% is invested in equities. MIPs have the potential to generate returns in excess of 10% if the equity markets perform well. Please note that returns from MIPs are market linked. Hence, there is no guarantee that you will get your expected returns.
---
ddo asked, Hi! i'm a retired person and will to take risk by investing in few balanced MF. I am looking forward to be invest money for 2~3 yrs time period. kindly suggest some good MF with above averge return.
Sailesh answers, Hi, if your investment horizon is between 2-3 years, then MIPs and Balanced funds are the best options for you. In the MIP you can consider investing in HDFC MIP – Long Term. Among the balanced funds, you can consider investing in HDFC Prudence and DSP BR Balanced Fund.
---
Sandeep asked, I want to invest Rs. 10000 per month in MF. Please suggest best MFs to get return more than 15%
Sailesh answers, Hi, you can consider investing in funds like HDFC Top 200, Fidelity Equity Fund and DSP BR Equity Fund among others. These are among the well managed and diversified equity funds with an excellent track record of over 10 years.
---
Tanuj asked, Hi, I want to know that, If we invest in ELSS through SIP which have Lock in Period of 3 Years. So at the time of Maturity it will be Tax free or Taxable.
Sailesh answers, Hi, going by the proposal in the second discussion paper on DTC, it appears that ELSS funds will lose the exemption from long term capital gains. There is still some ambiguity as to the new provisions will apply to old investments. Investors need to wait and watch. There should be clarity on this subject in next few weeks.
---
santosh asked, which of the best mutual fund for sip at this time
Sailesh answers, Hi, there is nothing like the best mutual fund. As an investor you need to first ascertain your investment objective and then select the mutual fund that best is best suited to help you achieve your objective. Invest in line with your investment horizon and risk appetite.I have given the names of few equity funds in my earlier reply to a similar question
---
ranjan asked, i am a new one in sharemarket, so how can i make investments.
Sailesh answers, Hi, if you are new to equity investing, I would not recommend that you invest directly into stocks. The best option for you is to invest in equity mutual funds. These funds are managed by professional fund managers who study and research individual stocks on a continuous basis. This is not possible for retail investors to do so. Start building a core portfolio by investing in well managed, diversified equity funds that have a proven track record of 5 years plus to show for.
---
Bhavin asked, What is Gold ETF and how one can buy gold ETF? What are the future of it and how it's price define?
Sailesh answers, hi, Gold ETF is a exchange traded fund. Its a mutual fund that can only be bought through the stock exchange. This fund invests directly into gold. The unit price moves in line with the price of the gold in the international market. Every unit of Gold ETF is backed by 1/2gm or 1gm of gold. To invest in gold ETF you will require a demat account and share trading account with any stock broker. Gold is a hedge against inflation. Being a precious metal it does not lose its value and hence it becomes the most sought after commodity in times of financial crises. One needs to have 10% exposure to gold. Its a good way of diversifying one's portfolio.
---
aksingh asked, what is the future of ULIP?
Sailesh answers, hi, the future of ULIPs looks all set to improve. IRDA will come out with new guidlelines for ULIPs. These guidelines will focus on reducing the expenses charged in the 1st 3 years of the policy. the commission payable to agents. Newpaper reports suggest that agents get very high commission on ULIPs, as high as 55% in the 1st five years of the policy. These are ofcourse paid by the investor by way of deduction from premium. therefore my recommendation all the investors is to stay away from ULIPs. Do not investin ULIPs.
---
chirag002 asked, Sir, I want to is this the right time to go for SIP in mutual funds
Sailesh answers, hi, there is no right time for SIPs. Rather SIPs do away with the botheration of timing the markets.the investor invests a fixed amount into a fund on a specified date regardless of the market level on that day. there is no science to perfect the art of timing the market. Hence, start your SIP today. IF you are a long term investor, you will definitely benefit from SIP investments.
---
lpl asked, i want to know if the PPF Is worth invensting ?
Sailesh answers, hi, PPF is among the best investment products avaialable today. Investment in PPF qualifies for deduction under section 80C. The interest is tax free and compounded on annualised basis. Also, the propoesed DTC doesnt take away the exemption status from the PPF. So go ahead and open your account today.
---
Arshad asked, Can you please tell me the process of how to claim a rebate in tax on the home loan.
Sailesh answers, hi, interest paid by you on the home loan taken to buy to the self occupied property is exempt upto Rs 1.50 lakhs p.a. this is straight away deducted from your Gross Total Income. The pricipal repaid by you qualifies for deduction under section 80C upto Rs 1 lakh.
---
Vatsal asked, Hi, I have recently got married and planning to build my invetment portfolio. Starting i had invested in FD to keep some liquidity (around 2Lc), decent amount in LIC. and bought a flat also (18000 emi) Now looking to expnad my portflio. Should i start with PPF or MF or gold etf
Sailesh answers, hi, start building your equity funds and Gold ETF portfolio. Start SIP in equity funds.
---
vinaysarda18 asked, Is Expense Ratio reduced the returns on MF schemes ?
Sailesh answers, hi, higher the expense ratio lower the returns.
---
AnTumbre asked, How much returns can I expect if I invest monthly Rs.2000 each through SIP mode in DSPBR Top100, Kotak 30 and SBNPP Select focus for 20 years? How safe is the investment through SIP in MFs for such a long horizon? Thank you.
Sailesh answers, hi, your expectation of return from equity funds, be they large cap or midcap or small cap, should not be higher than 15% p.a. Yes, there are funds that have given more than 20% returns p.a. But that is history. You should plan your investment with 15% return in mind.
---
ashish asked, investing 1.0 lac pa in LIC moneyplus since 04/2007. Please advise future action since current scenario doesnt look good!
Sailesh answers, hi, if you have surplus to invest and willing to take risk, then consider investingin in equity funds. Start SIPs in 4-5 diversified equity funds.
---
kapoor asked, Hello sir.... I am investing in two Mutal funds through SIP @1000 in Sundram tax saver & HDFC top 200. i have started last year. I want to add one more fund, Please suggest some fund and time frame is 3 years
Sailesh answers, hi, add DSP BR Top 100 Equity Fund to your portfolio.
---
aadi asked, Is it right time to invest in gold ETF?
Sailesh answers, hi, with financial world entagled in crises, gold has become one of the most favoured asset class. In all likelihood the demand for precious metal will continue to rise and so will the price. Therefore, it makes sense to diversify one's portfolio by investing in gold through the Gold ETF. Dont rush into buy all the gold today. Stagger your investment over 6 months. Buy everytime the gold prices dip. Cap your exposure to gold at 10% of your overall portfolio.
---
rah asked, HI, where should the young investor invest in order to get the maximum returns ? i.e. What is the ideal ratio in which one should plan his invetsments in various sources like MF's FD's PPF etc
Sailesh answers, hi,since you are young and have time on your side, you should consider having a portfolio that is dominated by equity. Ideally you can have 70% exposure to equity if your time horizon is 10 years and more. Say, if you are planning to invest for your reitrement. The balance 30% can be allocated to debt and Gold.
---
rrrrohit asked, I am investing Rs 1000 Each thru SIP in reliance growth,SBI magnum contra,UTI wealth builder seriesII ,HDFc top 200 funds.Time Horizon is 7 years.Should I stay invested or switch over to some other fund.Kindly advise.
Sailesh answers, hi, exit UTI, Magnum Contra. Invest in Franklin India Bluechip and DSP BR Equity instead
---
aadi asked, Hi i have atarted a SIP on Canara Robeco Infrastrucre and and ICICI discocovery fund . KIND suggest me whether I Should stay invested in this or not ? If change then to which funds
Sailesh answers, hi, Canara Robeco Infrastructure is definitely not recommended. Redeem and invest in diversified equity fund like HDFC Equity Fund.
---
sernthil asked, I want to invest Rs 25k pq in PPF, my age is 35. I have 2 questions with respect to this 1) Is this good choice 2) Is the maturity amount taxable ?
Sailesh answers, hi, PPF is certainly a good choice. As per the current tax laws maturity amount of PPF is not taxable. Even the new Direct Tax code has not tinkered with the taxability of PPF.
---
Mike asked, Hi, I have 2 ULIPS with a few MF schemes. I have complete 3 years locking period in both ULIPS. Current sttaus: One ULIP has surrender value around 10k more than invested amount. However, second ULIP has surrender value around 18K less than invested amount. It doesn't seem to get back invested money in second ULIP in next 3-4 years. Therefore, I am thinking to surrender both ULIP plans and invest the money somehwere else like MF. Could you please assist me?
Sailesh answers, hi, only surrender the ULIP where you are making profits. Dont surrender the ULIP where you are making a loss. Reinvest the proceds into 4-5 diverisified equity funds
---
veer asked, i have 3 lakhs , looking for investment for 2-3 yrs , can u provide me a good option , iam expecting 10-15 % returns
Sailesh answers, hi, the best option is MIP and balanced funds. Tone down your return expectation below 10%. To earn 15% p.a. over the next 3 years, you will have to be lucky!
---
Bhargav asked, Hi, i am planning to invest in shares since last 2-3 years but not ben able to sucessful due to family commitements. thinking of taking a loan and investing is it adviseable
Sailesh answers, hi, rememeber there are 2 rules of equity investing that every investor should remember. 1) Never invest with a borrowed money 2) Never invest on TIPS.
---
Bhargav asked, Hi, i am planning to invest in shares since last 2-3 years but not ben able to sucessful due to family commitements. thinking of taking a loan and investing is it adviseable
Sailesh answers, hi, there are 2 rules of equity investment every investor should keep in mind - 1) never invest your borrowed money 2) never invest on the basis of TIPS
---
rrrrohit asked, What is the target for the share market in the near future Say 1 year
Sailesh answers, hi, I wish I had an answer to this question. For the benefit of all the investors, I would like to say that invest in equity markets with an investment horizon of atleast 5 years. You will definitely make money. Investing for one year is fraught with risk. One has to be lucky more than anything else!
---
sunilmcm asked, Hello Sir, which fund is better Icici Infrastucre or Hdfc Top 200 for better returns
Sailesh answers, hi, I will choose HDFC Top 200 out of the two.
---
SevakarDamle asked, sir,tell us the mfs u have invested in.......
Sailesh answers, hi, whatever the fund I have recommended in this chat or my previous chats are the funds I have my investments in.
---
pradip asked, I want regular quarterly/half yearly income from my investment.Please suggest safe modes other that fixed deposits with Banks
Sailesh answers, hi, you can consider FD with HDFC Ltd. you can visit www.hdfc.com for more details. You can even invest in MIPs from mutual funds. Most MIPs have a quarterly dividend option. Please note that dividend by MIPs is not assured or guaranteed.
---
ajay kapoor asked, what are equity linked debentures ..?? how safe are they and what is the Expected return PA??
Sailesh answers, hi, these are structured products. A part of the return from the debenture is linked to Nifty or Sensex. Its difficult to predict the return one can earn from these instruments. These are specially designed for High Networth Invesors. there is no safety or guarantee that the stated returns will be generated. the track record of these products so far has been poor. Investors are advise to stay away from these and inves in simple products like equity funds, banks Fds and Gold ETFs
---
fds asked, GDay sir i m investing in Sbi Fmcg and Reliance pharma funds thru sip 8000 pm is it good
Sailesh answers, hi, both these fund are sectoral funds. These funds do well only when the underlying sectors hit a purple patch. the restrictive investment mandate of these funds works against them in case the sector goes out of flavour. Investors need to time the entry into and exit from the sector very well. these are therefore not recommended for investments. Always invest in diverisifed equity funds.
---
mitali asked, Good Afternoon Sir, I'm planning to invest in Gold ETF...please suggest me a good script..also tell me the minimum & maximum time frame required to get a good return
Sailesh answers, hi, in the Gold ETF I recommend Benchmark Gold ETF. As far as time horizon is concerned, I would recommend that you stay invested forever. Having said that I would like to you to review your portfolio every 6 months to ensure that your funds are performing well.
---
avi asked, I am 36 . What retirement plan to choose to get maximum benefit
Sailesh answers, hi, I dont recommend Retirement plans offered by insurance companies. I would rather advise investors to draw up a a retirement plan for themseleves based on their current finances and standar of living. Base on that they should build the retirement corpus that will be sufficient enought to meet their post reitrment expenses taking into account the inflation. the corpus should be large enought to last lifetime. the corpus should comprise of equity fund, bank Fds and gold ETFs
---
ravi139 asked, i want investment cums insurance, suggest me some policies
Sailesh answers, hi, keep you investment and insurance separate. for investments equity funds, bank FD and Gold ETFs are the best. As far as insurance is concerned, Term plans are the best. these offer higher sum assured for relatively lower premiums
---
JAGDISH asked, I HAV BHARTI AIRTEL 650 SHARES @ RS. 331 PER SHARE . KINDLY SUGGEST ME.
Sailesh answers, hi, its a bluechip company with strong fundamentals and leadership position in the industry. you will have to hold onto this stock for atleast 2 years to get good returns.
---
Sailesh says, 
We have run completely out of time. I thank you all for participating in this chat session. If you have any questions which were not answered during the chat, you can mail them to me at: sailesh.multani@
rediffmail.com
.