The Tata Group has close to 110 companies and Chandrasekaran plans to bring this number down to around five or six.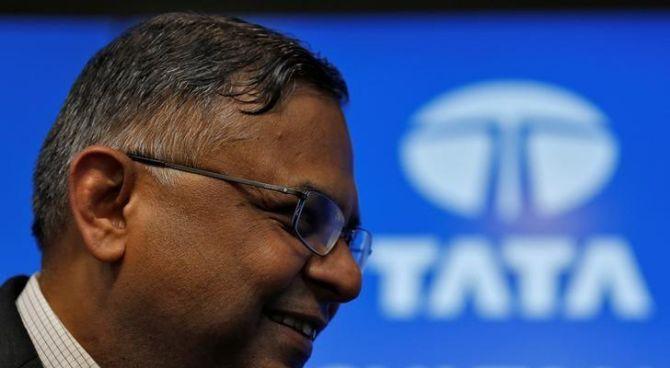 Tata Sons chairman N Chandrasekaran has spent nearly 14 months leading one of the country's oldest and largest corporate houses.
As he moves into second gear, he has one message for group chief executives: explain how best the philosophy of simplification, synergy and scale can be brought to life within the group.
Addressing heads of businesses at the Tata group's annual leadership summit at the Taj Swarna in Amritsar recently, Chandrasekaran said the next two years would have to be devoted to drive this 3S philosophy aggressively if the $103-billion group had to scale newer heights, sources said.
Attended by close to 230 top executives of various Tata group companies, the idea behind the meet, Chandrasekaran's second since taking over in February last year, was to harness the potential of firms and see how best a collaborative approach could be taken, apart from simplifying and scaling up operations.
The Tata Group has close to 110 companies and Chandrasekaran plans to bring this number down to around five or six.
A Tata Sons spokesperson said the company does not comment on internal matters or events.
The day-long meet started off with an address by Chandrasekaran in which he touched upon the annual performance of some of the key Tata group companies, said the sources quoted above.
It was followed by joint presentations by heads of companies on ways in which each were utilising the 3S philosophy in their businesses.
R Mukundan, managing director and chief executive at Tata Chemicals, for instance, elaborated on how his firm was beefing up its consumer-facing businesses, exiting non-core ones and sharpening focus on categories that could deliver growth.
Tata Chemicals has already set that process in motion, selling its phosphatic fertiliser business to a subsidiary of Indorama.
It also divested its urea business in August last year to Yara International and has invested in newer product segments such as neutraceuticals and silica.
Guenter Butschek, managing director and chief executive at Tata Motors, and TV Ravindran, global CEO and managing director of Tata Steel, shared a presentation on synergy, how the two companies had been collaborating with each other closely.
Rajesh Gopinathan, managing director and chief executive at Tata Consultancy Services (TCS), shared insights on the way the company was scaling up operations at a time when the IT industry as a whole was facing challenges.
Ajoy Misra, managing director and chief executive at Tata Global Beverages (TGBL), talked about how his firm would increasingly push more of its brands to go global, in its attempt to gain scale.
At present, Tata Tea and Himalayan are part of its power brands list, apart from Tetley and Eight O' Clock Coffee.
The plan would be to add to this list and some likely candidates include Tata Gluco Plus and Tata Water Plus, sources said.
For greater synergy, TGBL would also collaborate with Tata Chemicals on the branded foods business, officials privy to the presentation said.
The two companies would also cross-promote each other's brands the way TGBL and Tata Starbucks did.
TGBL would continue to get out of the non-core plantations business to focus on its branded business, they added.
The meet was also attended by R Venkatramanan, managing trustee, Tata Trusts.
In his presentation, Venkatramanan offered a peek into the philanthropic activities of the trusts, while delving on the scope of the trusts and Tata companies working together.
The "One Tata" approach, Chandrasekaran said, would help companies go to market as a more potent force and give them economies of scale and better bargaining power.
Croma, Voltas, Trent and Tata AIG, for instance, could tap into the 5 million-odd retail customer base of Tata Steel, he said.
"The strategy adopted by Chandra is the right one. There are just too many businesses and companies that are not necessarily relevant to each other.
"By speaking of simplification, synergy and scale, Chandra's move is to make the Tata Group more cohesive and united.
"That will be good in the long run and help the group to grow and free up resources to invest in newer areas," Harish HV, management consultant, who was earlier part of the India leadership team at Grant Thornton, said.
Photograph: Danish Siddiqui/Reuters