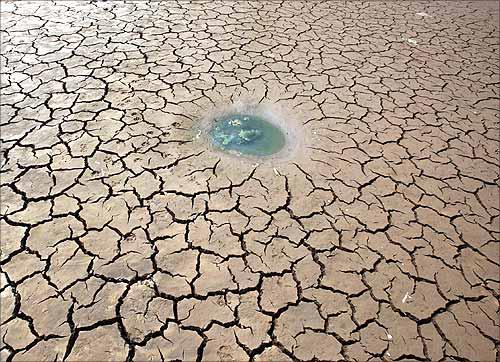 In what could come as bad news for millions of farmers across India, the Australian Weather Bureau has said there is triple the normal chance of the El Niño -- an extreme weather phenomenon associated with lack of rain -- happening this year.
This forecast, which came on Tuesday, is in line with the one given by the India Meteorological Department last week.
IMD had said El Niño conditions would persist during the southwest monsoon season.
AWB had said in March that there was 'more than half' chance of El Niño occurring this year.
The Australian agency has also issued an alert on El Niño.
"Sea surface temperatures now exceed El Niño thresholds and trade winds have remained weaker than average for several weeks.
"This suggests some coupling between the ocean and atmosphere may be occurring. If these patterns persist or strengthen, El Niño will become established," the bureau said.
It, however, warned the accuracy of weather models to correctly predict El Niño was slightly lower than at other times.
India's two main weather forecasting agencies -- state-run IMD and private agency Skymet Weather -- have two diagrammatically divergent views on the impact El Niño will have on this year's southwest monsoon.
According to Skymet, El Niño will not have a perceptible impact on southwest monsoon and it will start tapering after the summer.
The South Asian Climate Outlook Forum, too, in its seasonal outlook, had predicted a below-average rainfall over large tracts of South Asia during the coming monsoon.
"Below-normal rainfall is likely over broad areas of western (Pakistan), central (India) and southwestern parts (Sri Lanka) of South Asia and some areas in the northeast (parts of Bangladesh and Myanmar)," said SASCOF.
It added that weak El Niño conditions were established over the Pacific Ocean, which could continue during the southwest monsoon.
IMD, which is also part of the forum, says there is a 70 per cent chance of El Niño persisting during the southwest monsoon and it won't show any declining trend.
In its forecast, the IMD said a below-normal monsoon in 2015 at 93 per cent of the long period average ((average of rainfall between 1951 and 2000) will have more pronounced impact in northern, central and western parts of the country.
Although much of this region -- particularly Punjab, Haryana and western Uttar Pradesh -- has good irrigation facilities, any shortfall in monsoon increases the cost of production and could aggravate the distress in rural India.
Paddy, oilseeds and pulses are the main crops grown during the kharif season. The season contributes half to India's annual foodgrain output.
Recently, agriculture minister Radha Mohan Singh had said the agriculture department had prepared contingency plans for 100 districts across the country, which could be put into operation at short notice.