Vijay Mallya strikes a clever deal with International Cricket Council. His company will pay a modest sum in lieu of a wider outreach for his Kingfisher beer in the British market.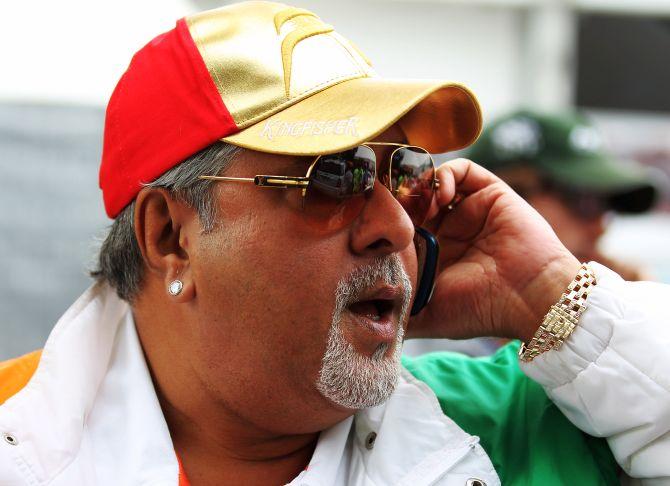 Even as he is due to appear at a magistrates' court in London for a preliminary hearing on the Indian government's application to extradite him, Vijay Mallya has struck a clever deal with the International Cricket Council. His company will pay a modest sum in lieu of a wider outreach for his Kingfisher beer in the British market.
According to an ICC official, the upfront payment "could be less than six-figures (in dollars)".
In exchange, Kingfisher will be the official lager partner for the Champions Trophy cricket tournament next month, hosted by England and Wales.
The tournament -- in which India are the defending champions -- is expected to attract over 200,000 spectators for the 15 matches to be held at Sophia Gardens, Cardiff, Edgbaston, Birmingham and The Oval, London.
A source close to Mallya said it was his personal "initiative" that clinched the deal with the ICC and not of Heineken, who are 42 per cent share-holders in United Breweries India (UBI), owners of the Kingfisher beer brand in the country.
This suggests, regardless of the Indian government withdrawing his passport, he is enjoying a "leave of indefinite stay" in the United Kingdom and still calling the shots as far as his flagship product is concerned.
Mallya, wanted by Indian authorities for alleged fraud, retains 32 per cent of UBI and continues to be the company's non-executive chairman by virtue of a shareholders' agreement and despite a directive of its board of directors to him in February to step down.
He is accused of collusion with officials of IDBI Bank to obtain a loan of Rs 900 crore for his now defunct Kingfisher Airlines.
The Securities and Exchange Board of India had in January barred Mallya from accessing the securities market in the country for alleged violations of a listing agreement, diversion of funds and fraud.
Earlier, he exited United Spirits, which is now controlled by the UK-headquartered Diageo Plc, with a 54.8 per cent stake in it.
ICC General Manager Campbell Jamieson said, "We are pleased to welcome Kingfisher to the ICC Champions Trophy family of partners." He described Kingfisher as "an iconic brand that has a long standing association with cricket".
Jamieson also said: "Kingfisher's premium brand positioning and its Indian heritage makes it a superb fit for cricket and the ICC."
Kingfisher Beer Europe Chief Executive Officer Damon Swarbrick said, "Nothing could be more 'Indian' than watching a cricket match with a cold, crisp pint of Kingfisher and we are extremely excited about bringing this experience to this summer's ICC Champions Trophy."
The partnership means Kingfisher will be the exclusive lager supplier at three venues where the ICC Champions Trophy matches will be played. It is a strategic move by Mallya to expand the brand beyond its traditional market in Indian restaurants. It is already available at British supermarkets.
United Breweries India licensed the Kingfisher brand to Kingfisher Beer Europe Limited (still controlled by Mallya) some 25 years ago and the two are unconnected.
The latter produces its beverage at a brewery in Faversham in the county of Kent adjoining London on its southeastern side. From here, it not only distributes within the UK, but exports to 19 European countries and Canada.
Kingfisher's operations in the United States are also under licence and de-linked from UBI. The beer sold there is also brewed locally. Exports to West Asia, Southeast Asia, the Far East and Australasia are handled out of India.
The antecedents of UBI can be traced back to 1857. The company itself was formed in 1915. Vijay's father Vittal Mallya became its chairman in 1948. The son took charge in 1983.
Kingfisher's websites indicate it enjoys a 50 per cent market share in India and is now available in at least 55 countries.
Image: Vijay Mallya. Photograph: Mark Thompson/Getty Images.