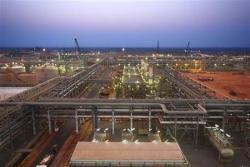 In its first decision, the Cabinet Committee on Investment (CCI) on Wednesday cleared Reliance Industries' producing KG-D6 block and gas discovery area NEC-25 along with 3 other areas where the Defence Ministry had either barred oil and gas activity or put stringent conditions on that.
In all, 8 blocks including RIL's Krishna Godavari basin KG-D6 block and gas discovery area of NEC-25 in the North East Coast (NEC) region, were declared "No-Go" zones for reasons like overlapping with proposed Naval base or being close to missile launching and Air Force exercise area.
Stringent conditions were put for another 31 exploration areas. The CCI, which had in January-end asked the miniteries of petroleum and defence to sort out differences, cleared five of the "No-Go" blocks, official sources said. Three blocks will continue to be No-Go areas.
RIL's KG-D6, which has been producing oil since September 2008 and gas from April 2009, was fully cleared for oil and gas activity with total area of 7,645 sq km reduced by 495 sq km to meet defence needs.
Similarly, its NEC-OSN-97/2, where six gas finds have so far been made, cleared after the portion of the block nearest to the coast was relinquished and the remaining portion was found to be beyond 100 km from the Chandipur Missle launch of DRDO and Balasore air-to-air firing range of IAF.