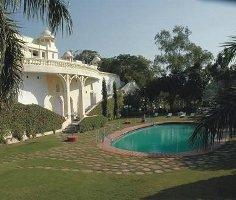 The Central Bureau of Investigation has registered a preliminary inquiry in the matter relating to sale of Udaipur's Laxmi Vilas hotel to Bharat Hotels during the Bharatiya Janata Party-led National Democratic Alliance government in 2002.

The inquiry will bring under a scanner Arun Shourie, the then disinvestment minister, and Bharat Hotels Chairperson Jyotsna Suri.

Shourie, who was not aware an inquiry was registered, said: "The right process was followed. Every single step was taken with the consent of the prime minister and the ministry concerned."

This is the second time CBI is probing Shourie. The agency had earlier given him a clean chit in the 2G telecom spectrum scam, after investigations revealed no instance of criminality against him as the telecom minister of the time.

The investigative agency had agreed Shourie followed all rules and distributed licences without delay.

In its latest inquiry, CBI has alleged the Udaipur hotel was sold to Bharat Hotels for Rs 7 crore (Rs 70 million), when the prevalent market rate was over Rs 150 crore (Rs 1.5 billion).

Bharat Hotels owns and operates the Lalit Hotel brand, named after its owner, the late Lalit Suri.

The agency did not reveal the name of the complainant and said the inquiry had been started on the basis of source-based information.

The five-star Laxmi Vilas hotel was owned and operated by India Tourism Development Corporation until 2002, when it was sold to the Bharat Hotels as part of a series of disinvestments in ITDC properties.

It is now known as the Lalit Laxmi Vilas.

CBI is probing if undue favours were given to Bharat Hotels by selling the property to it at a throwaway price.

Besides the hotel company, the CBI inquiry has named Krantikram and Co, a private evaluator, and Lagarde India, which was the advisor to the government for the deal.

The agency will question Jyotsna Suri regarding her company's acquisition of Laxmi Vilas. Suri could not be reached for a comment.

The hotel, with 55 rooms and suites, is a heritage property built by Maharana Fateh Singh in 1911.

At the time of its disinvestment, the BJP-led government had also sold two more ITDC hotels -- Qutab Hotel and Lodhi Hotel -- through a bidding process.

Since the matter is in preliminary inquiry stage, it will take a few months before the agency decides if there is sufficient evidence to prove criminality and lodge a first information report in the matter.

Under lens again

Bharatiya Janata Party leader Arun Shourie, disinvestment minister in the NDA government in 2002, when Udaipur's Laxmi Vilas hotel was sold to Bharat Hotels for Rs 7 crore (Rs 70 million), has come under CBI's lens for a second time.

Earlier, the investigative agency had probed his role in the 2G telecom spectrum scam and given him a clean chit.
Image: Udaipur's Laxmi Vilas hotel