Proceeds of only Rs 9,400 crore (Rs 94 billion) from the 2G telecom spectrum auctions have led economists to question whether the finance ministry would be able to rein in the government's fiscal deficit at the targeted 5.3 per cent of gross domestic product (GDP) for 2012-13.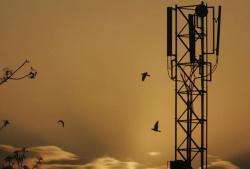 Budget 2012-13 had estimated proceeds of Rs 40,000 crore (Rs 400 billion) through the sale of spectrum for 2G telecom services in 2012-13.

Even the Rs 9,400 crore would be paid through a staggered framework, as telecom operators have to pay only Rs 2,820 crore (Rs 28.20 billion) this financial year.

And, this amount might not go to the Centre's kitty, as the government, under the auction terms, had agreed to adjust the 2G licence fee with operators whose permits were cancelled due to a Supreme Court order.

Another
source of revenue, divestment of stake in public sector undertakings, has not yielded any revenue for the government so far.
The Budget had estimated Rs 30,000 crore (Rs 300 billion) would be collected through this route. Disinvestment in Rashtriya Ispat Nigam Limited and National Aluminium Company has already been deferred.
CARE Ratings chief economist Madan Sabnavis said the government would have to look at another route for disinvestment, as public offerings would be difficult.
"The government would only be able to manage less than Rs 40,000 crore from disinvestment and spectrum sale, against the target of Rs 70,000 crore (Rs 700 billion)," he said.
Though the finance ministry has revised the Centre's fiscal deficit target for this financial year to 5.3 per cent of GDP from 5.1 per cent estimated in the Budget, now, even the revised target seemed difficult, analysts said.