About 200,000 ATMs can dispense the new series of Rs 500 notes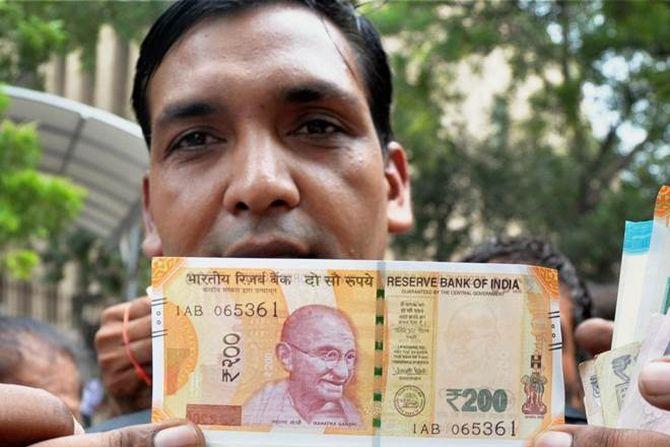 The government and Reserve Bank of India (RBI) have told banks to recalibrate ATMs in a phased manner for dispensing Rs 200 notes.
Notes of this denomination were introduced last August. A fifth of the 221,000 ATMs in the country have been so reconfigured.
"Banks had identified about 90,000 ATMs to be recalibrated and 48,000 have been, to dispense Rs 200 notes.
"However, with the increase in printing of Rs 500 notes, banks have been told to recalibrate ATMs in a phased manner, so that people don't face inconvenience in withdrawing money," said a senior finance ministry official.
About 200,000 ATMs can dispense the new series of Rs 500 notes.
"We will further review the requirement for recalibrating ATMs for Rs 200 notes in the coming days, when more Rs 500 notes are introduced in the system," another ministry official said.
RBI will increase five-fold the printing of Rs 500 notes, economic affairs secretary Subhash Chandra Garg had said last week.
It would, within a month, print Rs 700-750 billion worth of these notes.
RBI said it had raised the circulation of Rs 200 notes in the economy "to ensure balance in the required denomination-mix of currency notes to the public".
However, slow progress in recalibrating of ATMs to receive Rs 200 notes was one of the factors responsible for the recent cash crunch.
"The shortage might be felt in some pockets, largely due to logistical issues of replenishing ATMs frequently and the recalibration of ATMs being still underway. RBI is monitoring these aspects," the central bank said last Tuesday.
The government has written to the chief executives of all banks to ensure the cash situation at ATMs is monitored, especially on the coming bank holidays that coincide with a weekend when bank premises will be closed.
Banks in some states will be closed on April 30 (Buddha Purnima) and in some on May 1 (May Day).
"Cash withdrawals are usually high towards the end and the beginning of a month. In March-end, there were continuous bank holidays that also led to a situation of crunch in some states, as ATMs were not filled with cash," a third finance ministry official said.
Ministry officials say availability of cash had improved, with 86 per cent of ATMs dispensing cash on Monday, compared to 84.7 per cent on Friday.
However, the situation worsened in Bihar, where cash was available in about 69 per cent of ATMs on Monday, compared to 74 per cent on Friday.
In Jharkhand, 75 per cent of ATMs were dispensing cash, as against 72.4 per cent on Friday. Cash availability at ATMs improved in Andhra (from 71 per cent to 80 per cent), Telangana (from 78 to 84 per cent), Madhya Pradesh (80 to 82 per cent) and Uttar Pradesh (72.4 per cent to 75 per cent).
RBI has moved additional cash to banks in MP, UP, Tamil Nadu and Bihar, beside Hyderabad, an official said. The difference between cash withdrawal and deposits has also narrowed.
The former, at around Rs 240 billion, were 14 per cent more than deposits on Monday.
The difference between withdrawal and deposits stood at a little over 24 per cent last Monday.
On Tuesday, the finance ministry stated there had been an "unusual spurt in currency demand in the last three months" in some parts, including Andhra, Telangana, Karnataka, MP and Bihar. RBI data showed cash withdrawal from banks was higher than the deposits in April.
Photograph: PTI Photo