Ajit Jain,  Managing Editor, Canada, who is traveling with Canadian Prime Minister Stephen Harper on his first-ever visit to India, reports on Harper's first day in Mumbai, where he addressed business honchos of India and Canada.
"As India takes its rightful place in the world, Canada stands beside you as a steadfast and faithful friend," Stephen Harper, Prime Minister of Canada told a rapt audience of Indian and Canadian businessmen in the Trident Hotel in Mumbai on Monday.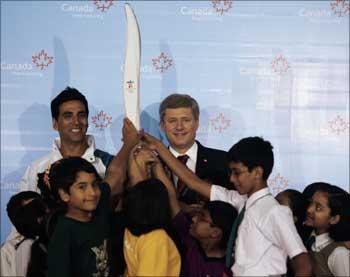 He further added that he sincerely hoped that the two countries would sign  'the bilateral nuclear cooperation agreement soon to help India's growing need for clean sources of energy', adding that a foreign investment protection agreement also needs to be signed soon to give confidence to business people that their direct investment is safe.
Tracing Indo-Canada relationships, from the days of Nehru, Harper spoke on the potentials - in trade, investments, science and technology - that exist between the two countries. He also dwelt on their potentials on world stage, now, when an economic crisis is sweeping the globe and the scope of their contributions in G20 summit.
Thanked his own Minister for International Trade Stockwell Day, Harper told the audience that he (Stockwell) is one of the leading figures in 'our government's unprecedented effort to reinvigorate Canada-India relations.'
Referring to global giants like Infosys, Tata and Reliance, Harper said, "The South Asian tiger has awoken and the world is standing in awe." The audience reciprocated by giving him a standing ovation.
Lauding Prime Minister Manmohan Singh (who was then the finance minister of India in the P V Narasimha Rao government) for launching the economic reforms in the 1990s, Harper said India has achieved its success through 'good policy, perseverance and ingenuity'. Those reforms are now 'bearing fruit', he added.
Then in a humourous mood, Harper pointed out how in the 1970s, 'an ultra-modern, Indian-built satellite was (seen in photos) being transported on an ox-cart' which, looked so incongruous that the image became so famous.
"It symbolised India's unbridled ambition and its dogged determination to succeed," pointed out Harper.
Despite 'the worst global recession in half a century, Harper said, "India is getting the job done in all sectors of  its economy whether it's building satellites, cutting poverty and illiteracy by half or posting staggering levels of economic growth."
There were a number of successful Indo-Canadian business people in the audience - business leaders like real estate developer from Calgary Bob Dhillon, Hotelier from Toronto Deepak Ruparrell, Kama Candy president and CEO Aditya Jha, and Indo-Canadian MPs.
Harper individually mentioned names of Federal Indo-Canadian MPs - Deepak Obhrai, Tim Uppal, Devinder Shory and Nina Grewal.  He also identified Gurmant Grewal, husband of Nina Grewal, who was also an MP.  He too forms part of the official Canadian delegation.
Canada and India also share tremendous economic strengths, said Harper. "We are both weathering the global recession better than most. And, in both cases, this is not by accident, as it is the result of sound fiscal policy, prudent regulation, and goal-oriented economic management."
It was to induce the Canadian business people to look to India for their future business ventures that the Canadian prime minister reminded them how 'India offers spectacular growth rates' and that the country has 'an increasingly liberal investment regime and impressive capabilities in the area of science and technology.' 
He, however, conceded that even though the combined GDP of Canada and India 'is well on its way to $4 trillion,' trade between the two countries was merely $5 billion.
Earlier in the day, Harper met Bollywood heartthrob Akshay Kumar, who will be a torch bearer for 2010 Winter Olympics in Vancouver.
While remembering the 26/11 terror attack in Mumbai, Harper recalled the Air India tragedy (Kanishka) of June 1985 in which 329 people were killed.
He also visited the Nariman House where Rabbi Gavriel and Rivka Holtzberg, the directors of Chabad-Lubavitch of Mumbai, were killed during one of the worst terrorist attacks to strike India in recent memory.
Harper rued that both Canada and India have been 'bloodied and have the scars of terrorism.'
Harper concluded by emphasising that this is the time for the two countries to take the "lead, lest they be left behind in the shallows."
And "so let us resolve to work together, to grow together and together seize the opportunities that will help us realise a brighter and even more prosperous future."
Image: Prime Minister of Canada Stephen Harper and Bollywood star Akshay Kumar (L) pose with Indian children holding the Olympic torch for the 2010 Vancouver Winter Olympic and Paralympic games, at a function in Mumbai.
Photograph: Arko Datta/Reuters